Balochistan and the Interests of Extra Regional Powers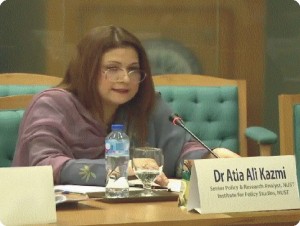 Dr. Atia Ali Kazmi
Overview
This subject is related to the province of Balochistan and, at the same time, is the pivot of contemporary discourse on comprehensive national security of Pakistan. It is reassuring to see that in a short span of time, the Balochistan Think Tank Network has achieved the poise to provide impetus to the narrative on nation building.
If Gilgit Baltistan and Kashmir are the jugular vein of Pakistan in the north, Balochistan has similar function in the south. If Punjab is the bread basket, Balochistan's natural resource are of immense value for national prosperity. Its development thus demands concerted consideration. If barren lands around the world are being developed through technology and innovation, challenges must not stop us too.
There is scanty literature on inimical interest of extra regional powers in Balochistan. They use rhetoric to disguise their actual interests. Considering that geopolitical games, great games, and the new great games will continue haunting and affecting the Global South in myriad ways, it is time to set our focus more on inclusive growth and development, for having a stable economy and efficient institutions being run by the best human capital.
One has to look beyond the smoke screen and focus on the actions of these States; and gauge their stated words against actions on Balochistan  whether their policies and actions respect the sovereignty, integrity, and interests of Pakistan. Before explaining their role, it is important to elaborate our core interests in Balochistan and its geostrategic importance. The conclusions will be apparent.
Core Interests and Balochistan
Our first core interest in Balochistan is ensuring sustainable socio-economic development. It includes three key dimensions, as also reflected in Human Development Index:
Health;
Education; and
Decent living standards
In this regard, steps for poverty alleviation will be instrumental. As per 2017 census, the poverty rate in Southern Balochistan was 46%, which was highest in the country. The Government must integrate the people of Balochistan in the process of economic development and they themselves must utilize any opportunities for their own capacity building.
Similarly, education is key to a better Balochistan. Quaid e Azam very aptly said that:
"Without education it is complete darkness and with education it is light. Education is a matter of life and death to our nation. The world is moving so fast that if you do not educate yourselves, you'll be not only completely left behind, but will be finished up."
Hence, the people of Balochistan must focus on quality-learning, whether it's higher education or technical and vocational trainings. The prospects of utilizing learned skills are improving too. For instance, the China-Pakistan Economic Corridor (CPEC) is a diversified development package that provides an opportunity to alleviate the grievances of Balochistan.
For that purpose, we need to train an efficient workforce here, by introducing new subjects in relevant institutes and specialized trainings, so that local skilled workforce is employed in Balochistan.
Second core interest is providing safety and security to the people of Balochistan.
iii. Third is efficiently tapping and managing natural resources.
Fourth is preventing any regional and extra-regional State or quasi-State actors from undermining our core national interests.
Water, food and energy security are other derivatives of these interests.
Geostrategic Significance of Balochistan
As regards the geo-strategic significance of Balochistan for us and any extra-regional power, it is easy to conclude:
First, that Balochistan is around 347,190 square kilometers gateway between South and Central Asia and the Persian Gulf.
Ii.  Secondly, the Gwadar Port in Balochistan has a strategic significance both from the economic and military points of view. It sits neatly in the 750 kilometers long Balochistan coastline. It is a deep warm water port, only 180 nautical miles away from the Strait of Hormuz, which is one of the three maritime choke points in the Indian Ocean Region, including Malacca and Bab-el-Mandeb. World's 20% oil passes through Gwadar Port and it provides vital trade routes, linking landlocked Central Asia with greater Asia Pacific region.
Iii. Thirdly, the contribution of marine fisheries production from Balochistan is almost 34% of total fisheries production in Pakistan. Of our 1100 kilometers coastline, 750 kilometers stretch is in Balochistan. Pakistan's Exclusive Economic Zone is estimated to be 240,000 square kilometers. The coastal belt contains a vast wealth of marine resources, waiting to be efficiently managed.
Iv.   And lastly, it is a common knowledge that Balochistan has the largest reserves of copper and gold in the world and is also blessed with huge oil reserves. Unfortunately, most of these resources are so far untapped. The natural gas from Sui has been a source of energy for over five decades. But at the same time, it has been a source of discontent and disharmony among the people of Balochistan and the resource consumers in other parts of the country.
Role of External Powers
Here we must contemplate the reasons, challenges and gaps that make a certain territory of one state vulnerable to external pressures and intervention. In this context, let's now evaluate what role major extra regional powers have been playing here, including development and interference:
United States
The U.S. has supported development in Balochistan through a range of projects seeking improvement in livelihoods, community resilience, education, health services, and infrastructure; and providing support to farmers and businesses. The U.S. rehabilitated 111 kilometers section of Kalat-Quetta-Chaman road. Scholarships and stipends are offered for youth to earn undergraduate and postgraduate degrees.
On the political side, separatism in Balochistan was never overtly supported by the US Government till the end of the twentieth century. Such an intervention can force the Pak-U.S. relations to a breaking point, which does not serve American interests or those of Pakistan's.
However, the geopolitical canvass is witnessing a sea-change in American foreign policy ever since the inclusion of India in the allied group of countries through initiatives such as the so called Indo-Pacific strategy and the Quad group. US-India agreements such as BECA, LEMOA, COMCASA, and the civil nuclear deal also exacerbated regional security dilemmas.
Lately, some Congressmen like Rohrabacher (RCA), and influential individuals like Ralph Peters, have tried to "stick it to Pakistan" through the U.S. Congress. Congressman Rohrabacher introduced a resolution in 2012 and testified that:
"Baloch people are divided between Pakistan, Iran, and Afghanistan. [That] they have the right to self-determination and to their own sovereign country."
Another shift occurred once in 2019, the U.S. Department of State designated the Balochistan Liberation Army (BLA) and Hizballah operatives as Specially Designated Global Terrorists. It had also designated Jundallah as a Foreign Terrorist Organization.
Then once again, while being focused on its policy of China's containment, the U.S. got concerned about the Chinese engagement in Balochistan since the start of commercial trade at Gwadar Port. The U.S. has occasionally expressed reservations, that the Port might be used by China to extend its economic and military sphere of influence. However, the collective benefits of trade through Gwadar Port must weigh more in the geostrategic calculations rather than promotion of zero-sum games.
Ii.    Russian Federation
Russia is another significant extra regional player, which has expressed interest that its investors would provide all facilities and security in Gwadar. In 2018, Governor of Balochistan offered to Russian diplomat that Pakistan could provide Russia with an easy route to Central Asia for trade expansion.
Russian investors have been keen to explore business opportunities in Pakistan and strengthening trade and investment cooperation with Pakistani counterparts. These objectives have also been conveyed in official and track 2 meetings.
In response to Congressman Rohrabacher's resolution, Moscow maintained that Balochistan is an integral part of Pakistan, and it is the responsibility of the Government to resolve its "internal" issues, not of any global superpower.
People's Republic of China
Besides being the most China offered CPEC for Pakistan in 2013, as part of its Belt and Road Initiative (BRI), which is a massive development package offered in the region and beyond.
In 2020, Pakistan allowed Chinese mining company a 15-year contract for copper and gold extraction in Saindak. This has angered some quarters in Balochistan who were of the view that they have not benefited from that deal. But they will surely benefit, in the long-term if not the shorter one, if such projects are adopted under proper rules and regulations.
Foreign sponsored insurgent groups in Balochistan have been targeting CPEC and the Chinese working in Balochistan and elsewhere. Special Security Division (9,000 Army and 6,000 Paramilitary soldiers) provides security to local and Chinese experts working on the project, but a better understanding and ownership of development projects by the public may provide positive-sum solutions.
Iii.    Europe
Likewise, European countries such as Germany, France, and UK, as well as Canada keep engaging with the government and people of Balochistan with more or less similar objectives. They bring in funds for development but also provide refuge and support to separatist leaders, who lobby in the West against Pakistan using smart terms such as ethnic exclusion and identity crisis.
The Canadian Barrick Gold Corporation has agreed to restart the Reqo Diq project in Pakistan, following 10 years of legal battles and negotiations, to develop one of the world's largest gold and copper mining projects. The Corporation's website stated that this development will make Balochistan the largest recipient of foreign investment in Pakistan, and it's expected to create about 4,000 long-term jobs.
The Imperatives of External Influence
No matter how effective the outsiders are in improving lives and livelihoods in a certain part of a state, there are no free lunches. They will always remain focused on their own interests while trying to find out gaps in the domestic political and development sectors and exploiting to fully achieve these interests and maintain their influence.
Interventions through investments may become good means to achieve bad results. Petty issues may become challenges once the people of the land join hands with external influencers. Also, notwithstanding the positive or dubious actions of external actors, we must first improve our internal traditional and non-traditional security. To develop Balochistan, there is a need to focus on knowing and understanding the rules of the land and values of the people of Balochistan.