Brief News International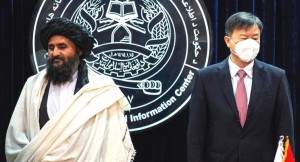 Taliban signs first international deal with China for major foreign investment in Afghanistan
Chinese petroleum company CAPEIC to invest $150m (£124m) a year (6 Jan 2023) Afghanistan's Taliban-led administration has signed a contract with a Chinese company to extract oil from the Amu Darya basin and develop an oil reserve in the country's northern Sar-e Pul province. The contract was signed on Thursday 6th January, by acting Minister of Mines and Petroleum Sheikh Shahabuddin Delawar and an official of Xinjiang Central Asia Petroleum and Gas Co (CAPEIC) in a ceremony held in capital Kabul. It was the first major public commodities extraction deal the Taliban administration has signed with a foreign company since taking power in 2021. Acting Deputy Prime Minister Mullah Abdul Ghani Baradar and Chinese ambassador to Afghanistan Wang Yu also witnessed the signing ceremony, state-run Bakhtar News Agency reported. "Recently, several projects were approved by the Economic Commission, and with their undertaking, fundamental steps will be taken for the prosperity of the country and public welfare," the agency quoted Baradar as saying. "We request that the company continue the procedure in accordance with international standards and in the best interests of the people of Sar-e Pul," he added. Speaking on the occasion, Delawar said under the deal the Chinese company will be extracting oil from an area covering 4,500 square kilometres (1,737 square miles) collectively in northern Sar-e Pul, Jawzjan, and Faryab provinces. "Over 3,000 local people will get jobs in this project," he said. CAPEIC will invest $150m a year in Afghanistan under the contract, the spokesperson for the Taliban-run administration, Zabihullah Mujahid, said on Twitter. Its investment would increase to $540m in three years for the 25-year contract, he said. The Taliban-run administration will have a 20 percent partnership in the project, which can be increased to 75 percent, he added. The state-owned company China National Petroleum Corp (CNPC) signed a contract with Afghanistan's previous, United States-backed government in 2012 to extract oil at the Amu Darya basin in the northern provinces of Faryab and Sar-e Pul. At the time, up to 87 million barrels of crude were estimated to be in Amu Darya. Delawar said a condition of the deal was that the oil be processed in Afghanistan. A Chinese state-owned company is also in talks with the Taliban-led administration over the operation of a Copper Mine in eastern Logar province, another deal that was first signed under the previous government. China has not formally recognised the Taliban administration but it has significant interests in a country at the centre of a region important for its Belt and Road infrastructure initiative. (SOURCE: NEWS AGENCIES)
————————————————————————————————-
US Republicans begin investigating Botched Afghanistan troop withdrawal
Republicans have launched an investigation into the chaotic US withdrawal from Afghanistan that sparked a lightning takeover of the war-ravaged country by the Taliban and the death of 13 American troops in a militant attack that also killed around 190 Afghan locals.  Michael McCaul, the chairman of the House Foreign Affairs Committee, said on Friday he had written to Secretary of State Antony Blinken requesting an array of records, from intelligence assessments to communications with the Taliban. "It is absurd and disgraceful that the Biden administration has repeatedly denied our longstanding oversight requests and continues to withhold information related to the withdrawal," said McCaul, a longstanding opposition member on the panel who became its chairman after the House flipped to Republican control at the start of the year. "In the event of continued noncompliance, the committee will use the authorities available to it to enforce these requests as necessary, including through a compulsory process." The US soldiers were killed on August 26, 2021, in a bombing outside Kabul's airport as the capital fell, with the government crumbling days later despite $2 trillion pumped into Afghanistan over two decades.  Images of crowds storming parked planes, climbing atop aircraft, and some clinging to a departing US military cargo plane as it rolled down the runway, were aired around the world. The scenes preceded a sharp drop in President Joe Biden's approval ratings, nine months after he was elected, promising smooth, competent leadership after the pandemonium under his predecessor Donald Trump. While Trump sealed the withdrawal with the Taliban, his Republican Party has roundly criticised Biden's handling of the operation and vowed hearings as part of a series of probes into his administration. The State Department did not respond immediately to a request for comment but says it has provided more than 150 briefings to members of Congress since the August 2021 withdrawal, according to US media.
Around 2,500 US troops were killed in America's longest war, but Afghanistan is no longer a priority back home, with 50 percent of respondents to a Gallup poll conducted a year after the withdrawal saying the entire war was a mistake. (Source: AFP)
————————————————————————————————-
First direct shipping line from china to Iranian port city of Chabahar
By: IFP January 2023
The announcement was made by Amir Moghadam, the managing director of the Chabahar Free Zone Organization, Tasnim news agency reported. According to Moghadam, Chines e ships previously unloaded in Bandar Abbas, the capital city of the southern province of Hormozgan, with their cargos then being transferred to Chabahar in Sistan-Ba The announcement was made by Amir Moghadam, the managing director of the Chabahar Free Zone Organization, Tasnim news agency reported. According to Moghadam, Chinese ships previously unloaded in Bandar Abbas, the capital city of the southern province of Hormozgan, with their cargos then being transferred to Chabahar in Sistan-Baluchestan Province via smaller ships. With the establishment of the direct shipping line between China and Chabahar, cargos are delivered ten days earlier, while the cost of loading and unloading is reduced by $400 per container, the official explained. In addition, the establishment of the mentioned shipping line plays a great role in the development of transit via Chabahar Port, he added. As Iran's only oceanic port on the Gulf of Oman, Chabahar port holds great significance for the country both politically and economically. The country has taken serious measures for developing this port in order to improve the country's maritime trade. In this regard, the Islamic Republic has been welcoming investors from all over the world to take part in the development of this port and benefit from its distinguished position as a trade hub in the region. Chabahar port consists of Shahid Kalantari and Shahid Beheshti terminals, each of which has five berth facilities. The port is located in Iran's Sistan-Balouchestan Province and is about 120 kilometers southwest of Pakistan's Baluchistan province, where the China-funded Gwadar port is situated.  (Source: Tehran Times)
————————————————————————————————-
Iran Thwarts Drone Attack on Military Site
DUBAI, UNITED ARAB EMIRATES
A loud explosion at a military plant in Iran's central city of Isfahan was caused by an "unsuccessful" drone attack, Iranian state media reported Sunday, citing the defense ministry. "One of (the drones) was hit by the … air defense and the other two were caught in defense traps and blew up. Fortunately, this unsuccessful attack did not cause any loss of life and caused minor damage to the workshop's roof," the ministry said in a statement carried by the state news agency IRNA. Iranian news agencies earlier reported the loud blast and carried a video showing a flash of light at the plant, said to be an ammunition factory, and footage of emergency vehicles and fire trucks outside the plant. In July, Iran said it had arrested a sabotage team made up of Kurdish militants working for Israel who planned to blow up a "Sensitive" defense industry center in Isfahan. The announcement came amid heightening tensions with arch-enemy Israel over Tehran's nuclear program. Israel says Iran is seeking to develop nuclear weapons. Tehran denies this. "(The attack) has not affected our installations and mission…and such blind measures will not have an impact on the continuation of the country's progress," the defense ministry statement said. There have been several explosions and fires around Iranian military, nuclear and industrial facilities in the past few years. The blasts have at times caused concern amid tensions over Iran's nuclear program with Israel and the United States. Israel has long threatened military action against Iran if indirect talks between Washington and Tehran fail to salvage a 2015 nuclear pact.  Israel appears to have been behind an overnight drone attack on a military factory in Iran, a U.S. official said.
Iran claimed to have intercepted drones that struck a military industry target near the central city of Isfahan, and said there were no casualties or serious damage.
The extent of damage could not be independently ascertained. Iranian state media released footage showing a flash in the sky and emergency vehicles at the scene. (Source: Reuters /VOA)
————————————————————————————————-
Iran hangs former defence ministry official for spying for UK
The judiciary's official news outlet confirmed that Alireza Akbari, a British-Iranian dual national, was hanged after being convicted of "corruption on Earth" and acting against national security by spying for British intelligence. It added that Akbari was earlier sentenced to death for "harming the country's internal and external security by passing on intelligence". "The actions of the British spy service in this case have shown the value of the convict, the importance of his access and the enemy's trust in him," it added. It claimed he had received training from the MI-6, established shell companies to thwart Iranian intelligence services, had intelligence meetings in various countries, including Austria and the UAE, and received British citizenship as a reward for "betraying" his country. According to the Iranian judiciary, Akbari began working with British intelligence in 2004 for five years before leaving the country. In 2009, he was allegedly advised by the UK to leave Iran. Akbari then allegedly re-entered Iran several years later to continue his activities, and was ultimately arrested. The judiciary did not announce the date of his arrest but he was reportedly taken into custody in 2019. Earlie, the state-run IRNA news agency released a video purporting to show "confessions" by Akbari, who is said to have been a close ally of Ali Shamkhani, Iran's current security chief and defence minister from 1997 to 2005, when Akbari was his deputy. Akbari's family had told British media he was innocent and had fallen victim to "political games" in Iran. (SOURCE: AL JAZEERA News Agency)
————————————————————————————————-
Dassault (Rafale) Chief Says European Union's Sanctions Against Russia Have Created Problems For Industry
By: Sputnik | January 9, 2023
Chairman and CEO of French aircraft manufacturer Dassault Aviation, Eric Trappier, said that the European Union's sanctions against Russia had created problems for the European industry. "Since the start of hostilities in Europe, in Ukraine, there have been sanctions that have created problems in the supply chain of some materials and energy," Trappier told French radio broadcaster Europe 1. While acknowledging sanctions as a "normal" political decision, he complained that the restrictions against Russia had a major impact on the energy sector in Europe and many European countries were suffering from the lack of Russian gas. "There are concerns about rising energy prices, which makes it difficult for businesses, especially in Europe, while there are no problems with access to gas in the United States," Dassault Aviation's chief said. Western countries and their allies have been facing high energy prices in the aftermath of imposing sanctions on Russia after it launched a military operation in Ukraine on February 24. The Ukraine crisis and sanctions have led to disruptions in supply chains and a spike in energy prices worldwide. (Source: Via: Sputnik News Agency)
————————————————————————————————-
Israel far-right minister enters Al-Aqsa in 'provocation'
(3 Jan, 20230) Israel's National Security Minister Itamar Ben-Gvir has entered the compound that houses the Al-Aqsa Mosque in occupied East Jerusalem, prompting condemnations from the United States, several Arab countries and Palestinians, who labelled the storming of the holy site an "unprecedented provocation". Ben-Gvir was seen at the site – Islam's third holiest site – under heavy security. "Our government will not surrender to the threats of Hamas," Ben-Gvir said in a statement published by his spokesman, after the Palestinian group that governs the besieged Gaza Strip warned that such a move would cross a "red line". Ben-Gvir has long called for greater Jewish access to the holy site, which is viewed by Palestinians as provocative and as a potential precursor to Israel taking complete control over the compound. Leading rabbis forbid Jews from praying at the site. Ben-Gvir wrote on Twitter after his visit that the site "is open to all and if Hamas thinks that if it threatens me it will deter me, they should understand that times have changed". Ofir Gendelman, who has long served as Prime Minister Benjamin Netanyahu's Arabic-language spokesman, released a video saying that the "situation is completely calm" at the holy site following Ben-Gvir's departure.. 'A dangerous escalation of the conflict' However, the Palestinian foreign ministry said it "strongly condemns the storming of Al-Aqsa mosque by the extremist minister Ben-Gvir and views it as unprecedented provocation and a dangerous escalation of the conflict". Jordan, Egypt and the United Arab Emirates, which have peace treaties with Israel, have condemned what they called Ben-Gvir's "storming" of Al-Aqsa. Amman summoned the Israeli ambassador and said the visit had violated international law and "the historic and legal status quo in Jerusalem". Saudi Arabia, with which Netanyahu wants to forge a peace deal, also criticised Ben-Gvir's action. Turkey, which has recently ended a long-running diplomatic rift with Israel, condemned the visit as "provocative" as well.
————————————————————————————————-
Israel Army kills Nine Palestinians, Including Elderly Woman
(26 Jan 2023) Israeli troops have killed at least nine Palestinians in one of the deadliest days in the occupied West Bank since Israeli raids intensified at the start of last year. The Palestinian Ministry of Health said 20 others were wounded with live ammunition in the raid on the Jenin refugee camp on Thursday, which Palestinians have described as a "massacre". Four of them were in critical condition. The dead included an elderly woman, according to Palestinian officials. She was identified as Magda Obaid by the Jenin hospital authorities. Israeli forces, who withdrew from Jenin after the killings, said they were looking into reports of the woman's death. Meanwhile, Al-Aqsa Martyrs' Brigade – an armed militia affiliated with the Palestinian political party Fatah – said the dead included one of its fighters, Izz al-Din Salahat. According to the health ministry, another person, Saeb Azriqi, 24, succumbed to his injuries in a hospital. Israeli forces also fired tear gas canisters towards the hospital, affecting the children's division, Baker said. It caused suffocation injuries to children and others, he said.  (SOURCE: AL JAZEERA AND NEWS AGENCIES)
————————————————————————————————-
Israel's outgoing army chief rebukes far-right government
(BY AP · 13 January 2023) JERUSALEM: Israel's outgoing army chief warned against plans by Benjamin Netanyahu's new coalition to grant more control to pro-settler lawmakers and make other changes to the Israeli security establishment, joining a loud chorus of criticism against the new right-wing government. In several interviews with Israeli news outlets just days before he steps down, Lt. Gen. Aviv Kochavi took unusually sharp aim at Netanyahu's coalition agreements with hard-line Jewish settler activists who seek to entrench Israeli rule in the occupied West Bank, restructure the Defense Ministry and control a special paramilitary police unit. "This is likely to cause damage and adversely affect our preparedness for war," Kochavi told the Israeli news site Ynet. While the coalition deals have sparked furor from many segments of Israeli society, Kochavi's worries have deep significance. Among Jewish Israelis, the military is considered an emblem of stability and among the country's most trusted institutions. Kochavi expressed particular concern about the coalition's plans to create three separate sources of authority in the West Bank. Netanyahu's deal with Bezalel Smotrich gave the powerful, right-wing finance minister control over an Israeli military body that regulates planning for Israeli settlements and Palestinian construction in parts of the West Bank where Israel maintains civilian control. Smotrich is an advocate of the outright annexation of parts of the West Bank that the Palestinians want for their hoped-for independent state. "There cannot be two commanding authorities (in the West Bank)," Kochavi said. "The separation between us is not good and may cause damage and lead to a worse situation for all populations." In other interviews, Kochavi said he called Netanyahu twice to warn him about the far-reaching consequences of the coalition's moves for the cohesion of the defense establishment. Netanyahu has sought to assure the public  as well as the US and Israel's European and Arab allies  that he has veto power over any changes that the far-right ministers make. But critics say he has so far failed to restrain his coalition partners. (Source: Arab News)
————————————————————————————————-
Iraq to hang 14 people for Daesh massacre of over a thousand cadets
(26-1—2023) The Al-Rusafa Criminal Court in the capital Baghdad "issued death sentences against 14 criminal terrorists for their participation in the Camp Speicher massacre in 2014″, the judicial authority said in a statement on Thursday, without specifying their nationalities. The massacre, one of the worst committed by the Daesh, saw the terror group in June 2014 abduct up to 1,700 mainly Shia cadets from the former US Speicher military base in the Tikrit region and execute them. The 14 men have 30 days to appeal the sentence.  Decrees authorizing executions must also be signed by the president. In 2016, 36 men were hanged for their participation in the massacre. The Tikrit massacre took place in the early days of the terror group's advance in Iraq, when its forces seized the second city Mosul and turned it into its stronghold — until it was driven out by the Iraqi army and an international coalition in 2017. According to propaganda images released by Daesh, the terror group executed the recruits one by one. Some bodies had been thrown into the Tigris River, which runs through Tikrit, while others were buried in mass graves. While Iraqi authorities do not give figures, several thousand people accused or convicted of Daesh links are detained in Iraqi prisons. The United Nations estimated in 2018 that more than 12,000 Iraqi and foreign "combatants" were being held in Iraqi prisons. (Source: AFP)
————————————————————————————————-
Sri Lanka to slash military by a third to cut
(13 Jan 2023) Sri Lanka will drastically slash its military, the Ministry of Defence has announced, as the country tries to cut costs in the face of its worst economic crisis in decades. The bankrupt nation will cut the number of army personnel by a third to 135,000 by next year and 100,000 by 2030, the state minister of defence said on Friday as the government works to overhaul its finances. "Military spending is basically state-borne expenditure which indirectly stimulates and opens avenues for economic growth by way of assuring national and human security," Premitha Bandara Thennakoon said in a statement. The aim of the move is to create a "technically and tactically sound and well-balanced" defence force by 2030, Thennakoon said. The island nation of 22 million people is reeling from months of food and fuel shortages and spiralling inflation. The government cut back on expenditures after the country slid into a deep economic crisis last year when its foreign exchange reserves dried up. President Ranil Wickremesinghe has hiked taxes and imposed harsh spending cuts to smooth the approval of an expected International Monetary Fund bailout following a government debt default. The size of Sri Lanka's armed forces peaked between 2017 and 2019 with 317,000 personnel, according to World Bank data. That was more than a decade after the end of the country's civil war, a 25-year-long conflict with the Tamil Tigers separatist movement, which ended in 2009. The share of the defence sector in Sri Lanka's total expenditures peaked in 2021 at 2.3 percent of its gross domestic product but fell to 2 percent last year, according to the Colombo-based think tank Verite Research.Defence accounted for nearly 10 percent of public spending last year, and according to analysts, pay for security force personnel makes up half the government's salary bill. The crisis peaked in July when protesters angered by the crisis stormed the official residence of then-president Gotabaya Rajapaksa, who briefly fled the country and tendered his resignation from abroad. (SOURCE: NEWS AGENCIES)
————————————————————————————————-
In a first, South Korea Declares Nuclear Weapons a Policy Option
BY CHOE SANG-HUN | THE NEW YORK TIMES | Jan 13, 2023
SEOUL  South Korean President Yoon Suk-yeol said for the first time, that if North Korea's nuclear threat grows, South Korea would consider building nuclear weapons of its own or ask the United States to redeploy them on the Korean Peninsula. Speaking during a joint policy briefing by his defense and foreign ministries, Yoon was quick to add that building nuclear weapons was not yet an official policy. He stressed that South Korea would for now deal with North Korea's nuclear threat by strengthening its alliance with the United States. Such a policy includes finding ways to increase the reliability of Washington's commitment to protect its ally with all of its defense capabilities, including nuclear weapons. Yoon's comments marked the first time since the United States withdrew all of its nuclear weapons from the South in 1991 that a South Korean president officially mentioned arming the country with nuclear weapons. Washington removed its nuclear weapons from South Korea as part of its global nuclear arms reduction efforts. South Korea is a signatory of the Nuclear Nonproliferation Treaty, or NPT, which bans the country from seeking nuclear weapons. It also signed a joint declaration with North Korea in 1991 in which both Koreas agreed not to "test, manufacture, produce, receive, possess, store, deploy or use nuclear weapons." But North Korea has reneged on the agreement by conducting six nuclear tests since 2006. Years of negotiations have failed to remove a single nuclear warhead in the North.​ (American and South Korean officials say that North Korea could conduct another nuclear test, its seventh, at any moment.​)​​ As North Korea vowed to expand its nuclear arsenal and threatened to use it against the South in recent months, voices have grown in South Korea  among analysts and within Yoon's conservative ruling People Power Party  calling for South Korea to reconsider a nuclear option. Policymakers in Seoul, South Korea, have disavowed the option​ for decades​, arguing that the so-called nuclear-umbrella protection ​from the United States ​would keep the country safe from North Korea​. In its 2022 Nuclear Posture Review, a document that outlines Washington's nuclear policy for the next five to 10 years, the Pentagon​ itself noted the "deterrence dilemmas" ​that the North posed to the United States. "A crisis or conflict on the Korean Peninsula could involve a number of nuclear-armed actors, raising the risk of broader conflict," it said. (Source: The New York Times)
——————————————————————————————
Japan likely to release treated Fukushima water in spring or summer
Tokyo, Jan. 13 (EFE).- The Japanese government announced, that the long-planned release of treated water accumulated at Fukushima Daiichi nuclear power plant will take place between the upcoming spring and summer, despite opposition by local fishermen. On Jan 13, the government approved a revised plan for the release, which also includes compensations for the fishing industry that could be affected by the step. Neighboring countries like South Korea and China have also protested against the proposed spill.The International Atomic Energy Agency (IAEA) is supervising Japan's plan to discharge the water once it is processed and most of the radioactive elements are removed. The agency will send its fourth delegation to Japan to review the on-ground preparations. Chief Cabinet Secretary Hirokazu Matsuno said after a cabinet meeting, in which the plan was approved, that before proceeding with the release, they will wait for the IAEA to release its general report, strengthen supervisory capabilities and work against the spreading of negative information. Matsuno, who estimated the exact release date to be between spring and summer of 2023, said that the water will be discharged in the Pacific Ocean once the preparations for the release, the research by Japan's Nuclear Regulation Authority (NRA) and IAEA's report are all completed. The water is treated with a processing system that eliminates most of the radioactive materials considered dangerous, with the exception of tritium, an isotope present in nature, although in a low concentration. Japanese authorities insist that the discharged water will have radioactivity levels below the limit fixed for drinking water by the World Health Organisation (WHO), and therefore will not be a threat to human health or the environment. However, the plan still faces opposition from local fishing communities, whose activities have barely been restored after the nuclear disaster of 2011. The communities fear that the stigma surrounding the fish and seafood of the area will worsen following the release. The area around the Fukushima Daiichi plant still suffers from the devastating consequences of the 2011 nuclear accident, including thousands of people who still remain displaced, and the continuous crisis of fishing, ranching and local agriculture.
————————————————————————————————-
France, Germany renew alliance strained amid war in Ukraine
(22 Jan 2023) German Chancellor Olaf Scholz was in Paris for talks with French President Emmanuel Macron, as the two leaders seek to overcome differences laid bare by the Ukraine war. The German leader visited the French capital for a day of ceremonies marking 60 years since a landmark treaty sealed a bond between the longtime enemies that underpins today's European Union. Germany's entire Cabinet was in Paris and 300 lawmakers from both countries met at the Sorbonne University. Both leaders will oversee two rounds of talks at the Elysee Palace, focusing on energy and economic policy as well as defence. "Let us use our inseparable friendship … to shape the present and future of our continent, together with our European partners," Scholz said at the ceremony at the Sorbonne. After Russia's invasion of Ukraine in February last year, the European peace project is at a "turning point", he said. "Putin's imperialism will not win … We will not allow Europe to revert to a time when violence replaced politics and our continent was torn apart by hatred and national rivalries." Pierre Haski, a political analyst, said the meeting comes as an occasion to show how France and Germany still hold trust and confidence in each other. "This was a good occasion … a political expression, a joint commitment to supporting Ukraine and solving the problem between them in Europe," Haski said. Paris and Berlin have adopted different approaches on several issues, from handling the coronavirus pandemic and its economic fallout to the energy crisis triggered by the war in Ukraine. (SOURCE: AL JAZEERA AND NEWS AGENCIES)
————————————————————————————————-
Russia-Ukraine live news: Soledar: Russia claims victory in battle for Ukraine salt mine town
By Will Vernon in Moscow & Paul Kirby in London : BBC News
Russia's military says it has captured the Ukrainian salt-mine town of Soledar after a long battle, calling it an "important" step for its offensive. The victory would allow Russian troops to push on to the nearby city of Bakhmut, and cut off the Ukrainian forces there, a spokesman said.  This was a very confident and ambitious statement from Moscow. But Ukrainian officials said the fight for Soledar was still going on and accused Russia of "information noise". The battle for Soledar has been one of the bloodiest of the war. The town is relatively small, with a pre-war population of just 10,000, and its strategic significance is debatable. But if it is c onfirmed that Russian forces have seized control of it, then there will likely be a big sigh of relief in the Kremlin.
US announces additional $2.5B in military assistance for Ukraine
By: Betül Yürük   |20-01-2023
The new package of security assistance includes eight Avenger air defense systems, 59 Bradley Infantry Fighting Vehicles and 90 Stryker Armored Personnel Carriers. The latest military assistance brings the number of equipment drawdowns from Defense Department inventories for Ukraine since August 2021 to 30. The US has committed more than $26.7 billion in security assistance to Ukraine since the beginning of Russia's invasion on Feb. 24, 2022.(Source: Anadolu Agency)
————————————————————————————————-
 US to send 31 Abrams tanks to Kyiv
(By Edna Mohamed and Dalia Hatuqa)  25 Jan 2023
U.S. plans to send M1 Abrams tanks to Ukraine
Biden's Abrams tank decision is policy reversal: AJ correspondent
President Biden has made it clear that sending Abram tanks to Ukraine is not an offensive threat to Russia, Kimberly Halkett, Al Jazeera's White House correspondent reports. "This is more of a signal to Americans here in the US who might be worried about 'mission creep' if you will. Russia is a nuclear power and there are many Americans who are worried about the escalation and the impact this might have," Halkett said, reporting from Washington, DC. Slovakia is ready to send 30 T-72 tanks to Ukraine "immediately" if it can receive Western tanks to replace them, defence minister Jaroslav Nad said. Nad told a briefing that Slovakia had sent 30 Soviet-era BVP-1 infantry fighting vehicles to Ukraine last year after agreeing that Germany would deliver 15 Leopard 2 tanks to Slovakia to take their place. Abrams and Leopard tanks: Why are they important to Ukraine?
(By: AJLabs ) "The Leopard and American Abrams are actually twins," Sydney Freedberg, contributing editor of the digital magazine, Breaking Defence, told Al Jazeera. The Leopard 2 was first produced in 1979 by Krauss-Maffei for the German Ministry of Defence. They are in service with the armies of Austria, Canada, Chile, Denmark, Finland, Germany, Greece, the Netherlands, Norway, Poland, Portugal, Singapore, Switzerland, Sweden, Spain and Turkey. The first M1 tank was manufactured by General Dynamics Land Systems (GDLS) in 1978 and was delivered to the US Army in 1980. "They are very similar. Big vehicles, heavily armoured. Much better protected than anything the Soviets built, or anything the Russians currently have," said Freedberg. The main difference between the Abrams and Leopards is the engine. The Leopard 2 has a diesel-powered MTU MB 873 engine, which is much easier to maintain and more widely used across Europe, while the Abrams uses a more powerful and more complex turbine engine. According to Freedberg, because the Abram tanks are used significantly less across Europe, Ukraine may struggle to cope with logistic infrastructure such as obtaining spare parts, warehousing and general maintenance. The four-person tank will also require additional training on the complex machinery.
————————————————————————————————-
Tank deliveries 'direct involvement' of Europe, NATO: Moscow
Raising the specter of escalation of the Ukraine war, a Kremlin spokesman has said that Russia sees European and NATO countries supplying weapons to Ukraine – including a host of just-announced tank supplies – as their "direct involvement" in the "conflict." "Statements are constantly being made from European capitals and Washington that sending various weapons systems, including tanks, to Ukraine in no case means that these countries or the alliance are involved in the fighting that is taking place in Ukraine. We categorically disagree with this," Dmitry Peskov told a press briefing in Moscow. "In Moscow, everything that the alliance and the capitals I mentioned are doing is perceived as direct involvement in the conflict," he explained. He added that Moscow noted that this involvement has been growing.
————————————————————————————————-
California storm damage could top $1 billion
'Years to rebuild': Biden takes in scale of California storm destruction on visit
President highlighted damage from punishing storms which hit state for weeks and claimed at least 21 lives
By Christopher Flavelle | Jan. 10, 2023
The damage from weeks of storms and flooding in California could exceed a billion dollars, according to the state's emergency agency and private weather forecasters. That toll comes on the heels of 2022, one of the worst on record for large-scale weather and climate disasters around the United States, according to data released by the National Oceanic and Atmospheric Administration. "It's likely that this is going to be at least several billion dollars," said Jonathan Porter, chief meteorologist at AccuWeather. "It will unfortunately join the club of billion-dollar disasters." The nation was struck last year by 18 disasters that caused more than $1 billion each in damage. That's the third-highest number in the 43 years that NOAA has been keeping records. The only other years on record with more billion-dollar disasters, adjusted for inflation, are 2020 and 2021. At the top of the 2022 list is Hurricane Ian, which caused $113 billion in damage, the country's third-costliest hurricane since 1980 behind Hurricanes Katrina and Harvey. The drought and heat wave in the Western and Central United States was the second-worst disaster in 2022, causing $22 billion in damage. All told, last year's 18 large-scale disasters caused $165 billion in damage, according to NOAA  greater than the annual economic output of West Virginia and Alaska put together. (Source: New York Times)
————————————————————————————————-
At least 68 killed in Nepal's worst air crash in three decades
By Gopal Sharma
KATHMANDU, Jan 15 (Reuters) – At least 68 people were killed on Sunday when a domestic flight of Yeti Airlines crashed in Pokhara in Nepal, the worst air crash in three decades in the small Himalayan nation. Local TV footage earlier showed rescue workers scrambling around broken sections of the aircraft.  It was Nepal's deadliest air crash since 1992, the Aviation Safety Network database showed, when a Pakistan International Airlines Airbus A300 crashed into a hillside upon approach to Kathmandu, killing all 167 people on board. Nearly 350 people have died since 2000 in plane or helicopter crashes in Nepal – home to eight of the world's 14 highest mountains, including Everest – where sudden weather changes can make for hazardous conditions. The European Union has banned Nepali airlines from its airspace since 2013, citing safety concerns. The government has established a panel to investigate the cause of the crash and it is expected to report within 45 days, finance minister Bishnu Paudel told reporters. France's air accident investigation agency BEA said it would participate in the probe into the causes of the crash and coordinate with all other parties involved. Passengers included five Indians, four Russians and one Irish, two South Korean, one Australian, one French and one Argentine national. "ATR specialists are fully engaged to support both the investigation and the customer," ATR said in a statement.(Source: Reuters)
————————————————————————————————-
Philippines agrees to allow US wider access to military bases
(2 Feb 2023) The Philippines and the United States have agreed to expand their defence pact, with US troops allowed access to four more military bases in the Southeast Asian nation, according to a joint statement from the two countries' defence departments. The agreement was unveiled during a visit to Manila by US Defense Secretary, Lloyd Austin, during which he held talks with Philippine President Ferdinand Marcos Jr, who took office last year. "The Philippines and the United States are proud to announce their plans to accelerate the full implementation of the Enhanced Defense Cooperation Agreement (EDCA) with the agreement to designate four new Agreed Locations in strategic areas of the country and the substantial completion of the projects in the existing five Agreed Locations," the joint statement said. It was published on the websites of the US Department of Defense and on the Philippines' Department of National Defense.
EDCA forms part of a decades-long security alliance between the US and the Philippines, and allows US troops to rotate through five Philippine bases, including those near disputed waters. It also allows for the US military to store defence equipment and supplies on those bases. The statement said the expansion would make the two countries' alliance "stronger and more resilient" and "accelerate modernization of our combined military capabilities". The statement did not elaborate on the new locations, but said they would "allow more rapid support for humanitarian and climate-related disasters in the Philippines". The US had allocated more than $82 million towards infrastructure investments at EDCA's existing five sites, it added. The expansion comes as China becomes increasingly assertive in pressing its claim to the self-ruled island of Taiwan, as well as in the South China Sea where it claims almost the entire waterway under its controversial nine-dash line. The Philippines, other Southeast Asian nations and Taiwan also have overlapping claims to the sea, which is a major global trade route.
————————————————————————————————-
India Banned a BBC Documentary Critical of Modi
What is the BBC's Modi documentary about?
The documentary aired Jan. 17 and charts Modi's political rise through the ranks of the Hindu nationalist Bharatiya Janata Party (BJP) and becoming chief minister of the western state of Gujarat. It focuses at length on the 2002 Gujarat riotsone of the worst outbreaks of religious violence in India's recent historythat took place while he led the state. After a train carrying Hindu pilgrims was set on fire in the state, and 59 people were killed, grieving citizens blamed Muslims. Revenge attacks led to over 1,000 deaths. The documentary highlighted an unpublished report from the U.K. Foreign Office that claims Modi was "directly responsible" for the "climate of impunity" that enabled the violence. Modi denies accusations of personal responsibility for the riots, and his supporters cite a 2013 Supreme Court ruling of there being insufficient evidence to prosecute him. Mr Modi has long rejected accusations that he had any responsibility for the violence and not apologised for the riots. In 2013, a Supreme Court panel also said there was insufficient evidence to prosecute him. BBC Documentary On PM Modi "Propaganda Piece", "Colonial Mindset": India "A look at tensions between Indian PM Narendra Modi and India's Muslim minority, investigating claims about his role in the 2002 riots that left over a thousand dead," says the series descriptor.
India NewsReported by Maha Siddiqui, Edited by Deepshikha GhoshUpdated: January 19, 2023 6:14 pm. The BBC series called "India: The Modi Question" has provoked sharp reactions. The Indian government strongly condemned a BBC series on Prime Minister Narendra Modi and the 2002 Gujarat riots as a "propaganda piece designed to push a discredited narrative" that shouldn't be "dignified" with a response. (Source: BBC/NDTV)
————————————————————————————————-
India Seeks Changes in Decades-Old Water Pact With Pakistan
First notice in sixty years to change water-sharing treaty Pakistan has refused to negotiate water-sharing  Dispute India wants to keep third parties out of water  treaty with Pakistan
NEW DELHI, Jan 27 ( Reuters) – India has asked  Pakistan to change a decades-old water-sharing agreement by barring third parties from  intervening  in disputes, an Indian government  source said, a  suggestion likely to rile Islamabad. Pakistan is concerned that India's planned hydropower dams will cut flows on the river, which feeds  80% of its irrigated agriculture. Over the years it has asked for a neutral expert and then an arbitration  court to intervene. India has accused Pakistan of dragging out the complaints process, and says the construction of its Kishanganga and Ratle Hydro Electric projects is allowed by the six-decade-old Indus Water Treaty. An Indian government source said New Delhi had served Pakistan a notice to modify the treaty and wanted to meet to start resolving the long-running dispute within 90 days.      (Source:  Reuters)
————————————————————————————————-
Indians View US as Biggest Threat After China, Survey Shows
ByL Eltaf Najafizada | January 17, 2023
Some 43% of the 1,000 respondents perceived China — with whom India has a long-lingering border dispute and has seen tensions flare again since 2020 — as the greatest threat, according to the survey by Morning Consult, a US-based global business intelligence company.  However, 22% saw the US as the second-most significant security threat, ahead of India's historic arch-rival Pakistan, the survey showed.  "While the world's two largest democracies would seem to make for natural partners, especially given their mutual mistrust of China, Indians have strategic reasons to be wary of the world's Western superpower," according to Sonnet Frisbie and Scott Moskowitz, who oversaw the survey released. "As tensions between Washington and Beijing increase, the Indian public may be worried about getting caught in the middle of a US-China conflict that destabilizes regional security, putting India at risk."
India's Perceived Military Threat
Indians perceive China and the United States as their country's biggest threats
The concerns reflected in the survey — conducted Oct. 14-15 — about the risks from Washington persist despite the South Asian nation's closer partnership with the US, Australia, and Japan — or the Quad, a grouping of democracies formed to counter Beijing's economic and military ambitions.  India has remained neutral on the Russian war in Ukraine despite pressure from its Quad partners — refraining from UN censure votes, while urging a diplomatic solution to ease the food and fertilizer crunch triggered by the crisis. It has also continued to snap up cheap Russian oil. Blame for Russia's war in Ukraine New Delhi and Moscow have a long-standing relationship that spans sectors such as defense and security. India is the world's largest buyer of Russian weapons, and a surge in oil purchases by Asia's second-biggest importer has helped the Kremlin to maintain exports as it tackles Western sanctions. (Source: Bloomberg)
————————————————————————————————-
Bharat Jodo Yatra: Rahul Gandhi's unity march ends in Kashmir
Rahul Gandhi, MP and a senior leader of India's main opposition Congress party, is at the end of his 4,000km (2,485-mile)-long "unity march" across India. The five-month-long mar ch began in Kanyakumari in the southern state of Tamil Nadu, and finished in Srinagar, the capital of Jammu and Kashmir. The march has drawn large crowds across the country, with a number of celebrities endorsing it. Analysts, however, say it is unclear if this will translate into votes. Mr Gandhi said the march – called Bharat Jodo Yatra – was aimed at uniting Indians against hatred and fear being spread in society. Political analysts say it was also aimed at reviving the flagging spirits of the beleaguered Congress party which has been in free fall since 2014, when Prime Minister Narendra Modi swept to power in India. The march culminated with a rally in a stadium in Srinagar on Monday afternoon. It was attended by Mr Gandhi and several other Congress leaders and also leaders from some opposition parties who joined in a show of unity. Addressing the rally, Mr Gandhi said he was warned against travelling on foot by the local administration who said a grenade could be hurled at him. The Congress leader said he insisted on walking because "my family and [Mahatma] Gandhi taught me to live fearlessly, otherwise, that is not living". Mr Gandhi said he had received "wholehearted love" in the region where he spent the last leg of his march. On Sunday 29 Jan., the Congress MP told a press conference in Srinagar that he had received a "great response" across the country. "The yatra's purpose is also that people of this country get to hear true voice of the country," he said. (Courtesy: BBC News).