CIA chief's meeting with Kim Jong-un is latest step in winding path to talks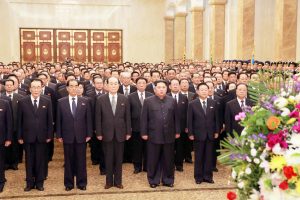 By Austin Ramzy & Emily Cochraneapril
Mike Pompeo, the C.I.A. director and nominee to be the next secretary of state, traveled to North Korea and met with its leader, Kim Jong-un, the strongest indicator to date that plans for direct talks between Mr. Kim and President Trump are moving ahead. If talks between Mr. Trump and Mr. Kim do happen, they would be the highest-level meeting between the two countries. No sitting president has ever met or even spoken on the phone with a North Korean leader.
Here's a look at previous attempts at dialogue and how the possible summit meeting between Mr. Trump and Mr. Kim came about.
1994
The Brink of War and an Agreement
Jimmy Carter met Kim Il-sung, North Korea's founder, in 1994. Against the wishes of Bill Clinton, then the president, Mr. Carter traveled to North Korea's capital, Pyongyang, after American intelligence agencies said they believed the North was processing plutonium for use in nuclear weapons.
Mr. Carter's meeting with Mr. Kim, who died three weeks later, set in motion the resumption of talks that led to what was called the Agreed Framework. Under that agreement, North Korea halted the construction of two reactors that could be used to produce fuel for nuclear weapons in exchange for oil and the promise of two light-water nuclear reactors that could produce energy but not weapons fuel.
President Clinton would later agree to the deal, but Congress often delayed the oil shipments and refused to immediately lift sanctions, and the light-water reactors were never built.
2000
North and South Korea Hold Talks
The talks ushered in an unprecedented rapprochement and various joint projects including a factory park in the North Korean town of Kaesong. But the credibility of Kim Dae-jung's so-called Sunshine Policy was damaged after an investigation revealed that the South Korean government had funneled $450 million to the North shortly before the talks.
Madeleine Albright Visits the North
Kim Jong-il invited President Clinton to North Korea in 2000. Madeleine K. Albright, the secretary of state, went instead. She traveled to Pyongyang in an effort to expand the Agreed Framework to include ballistic missiles, which North Korea was developing and selling abroad. Clinton administration officials said a deal was close, but nothing was concluded by the time President George W. Bush took office in 2001.
2002 – 2006
A Nuclear Bomb Test
The United Nations Security Council meeting in New York in October 2006 after North Korea's first nuclear test. The Agreed Framework collapsed in 2002 after the United States confronted North Korea over its secret program to enrich uranium using equipment from Pakistan. The United States stopped oil shipments to North Korea and Pyongyang restarted its nuclear weapons program.
The so-called Six-Party Talks continued fitfully between representatives of North and South Korea, China, Russia, Japan and the United States. The North said in 2005 that it would give up nuclear weapons and its existing nuclear programs in return for security guarantees. North Korea carried out its first nuclear test in 2006.
2007 – 2011
Six-Party Talks Collapse
In 2007, Kim Jong-il and South Korea's president at the time, Roh Moo-hyun, held the second summit meeting between the two sides. The meeting produced an agreement aimed at expanding inter-Korean ties and easing military tensions along the disputed maritime border on the west coast of the Korean Peninsula. But the deal came at the end of Mr. Roh's five-year administration and his conservative successor quickly scrapped it.
The Six-Party Talks eventually collapsed in 2009, largely over the question of allowing international inspectors into North Korean sites. That same year, Mr. Clinton traveled to North Korea and met with Kim Jong-il to secure the release of two American journalists, Euna Lee and Laura Ling.
Kim Jong-il died in 2011 and his youngest son, Kim Jong-un, took over control of North Korea.
2012
President Obama Pursues 'Strategic Patience'
The Obama administration pursued a strategy of escalating sanctions it described as strategic patience, although meetings between diplomats from the two sides continued. An agreement appeared to be reached on Feb. 29, 2012, under which the North would allow the return of weapons inspectors, and halt its long-range missile and nuclear weapons programs in return for American food aid.
However, the deal died soon after when North Korea launched a rocket to put a satellite in orbit, which the United States considered part of its efforts to develop long-range ballistic missiles.
2016 – 2017
Trump Signals Willingness to Talk
During the 2016 presidential campaign, Mr. Trump said he would be willingto hold direct negotiations with Mr. Kim as part of efforts to halt North Korea's nuclear program. He later pushed back against criticism over his willingness to speak with the North Korean leader. "Who the hell cares? I'll speak to anybody. Who knows?" Mr. Trump said. "There's a 10 percent or a 20 percent chance that I can talk him out of those damn nukes because who the hell wants him to have nukes? And there's a chance I'm only gonna make a good deal for us."
After the death of Otto F. Warmbier, a University of Virginia honors student who spent 17 months in North Korean captivity, Mr. Trump condemned the "brutal regime" in North Korea.
Stronger Missiles and More Powerful Nukes
During the first year of Mr. Trump's presidency, North Korea tested ballistic missiles with increasingly longer ranges that put the United States within reach. The North also carried out its sixth and most powerful nuclear detonation, which the regime claimed was a hydrogen device.
Mr. Trump threatened to assail North Korea with "fire and fury" if the country endangered the United States. Undeterred, North Korea announced it was considering a strike against Guam, where the United States maintains a critical air base, that would create "an enveloping fire" around the Pacific island.
Trump and Kim's War of Words
In his inaugural speech to the United Nations General Assembly, Mr. Trump vowed to "totally destroy" North Korea if it threatened the United States or its allies. "If the righteous many don't confront the wicked few, then evil will triumph," he said. "Rocket man is on a suicide mission for himself," he said of Mr. Kim in September, having debuted the nickname on Twitter earlier that month. Mr. Kim later called Mr. Trump "a dotard." Mr. Trump's United Nations speech came just days after North Korea fired a ballistic missile over Japan.
2018
An Olympic Overture
Two days into 2018, Mr. Trump said American and international sanctions on North Korea prompted talks between North and South Korea a prospect raised during a speech made by Mr. Kim on New Year's Day. Mr. Kim boasted of having a button on his desk from which he could order a strike against the mainland United States. Mr. Trump responded on Twitter that he possessed a "much bigger & more powerful" nuclear button.
Later that month, during his inaugural State of the Union speech, Mr. Trump vowed he would not repeat "the mistakes of past administrations that got us into this dangerous position." North Korea agreed to send a delegation to South Korea for the Winter Olympics in February. The move helped ease tensions between the two sides. Kim Yo-jong, Mr. Kim's sister, went to Pyeongchang, South Korea, for the opening ceremony.
Ivanka Trump, the president's daughter and a senior White House adviser, traveled to South Korea to attend the closing ceremony. Her appearance came after a failed attempt by South Korean officials to coordinate a meeting between Kim Yo-jong and Vice President Mike Pence at the outset of the Games. Two top South Korean officials, Chung Eui-yong, national security adviser, and Suh Hoon, the director of National Intelligence Service, traveled to North Korea last month to meet with Mr. Kim and set the groundwork for the overture to Mr. Trump.