Jacinda sees a bit of Benazir in herself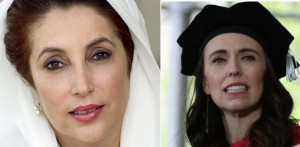 By Anwar Iqbal
Paying homage to the late Benazir Bhutto, New Zealand Prime Minister Jacinda Ardern recalled what the first woman to lead a Muslim majority country had proposed 30 years ago, an association of states to protect democracy and punish dictatorships. In her speech at Harvard University's commencement ceremony on Thursday, New Zealand's premier spoke about her "connection" to the late Benazir and of her wisdom in calling for forming a protective ring around democracies.In June 1989, the first and the only woman prime minister of Pakistan also delivered the commencement address titled "Democratic Nations Must Unite", proposing an international association of democratic countries that would use observer teams, foreign aid, and economic sanctions to promote democracy and discourage dictatorships.  Arden, speaking almost 30 years after Benazir, underlined the dangers that democracies face today, particularly from misinformation and the use of social media by violent individuals and groups. "In June 1989 the Prime Minister of Pakistan stood on this spot and delivered the commencement address: titled "Democratic nations must unite," Jacinda Arden recalled. "She spoke about her journey, the importance of citizenry, representative government, human rights, and democracy." Arden said she met Benazir Bhutto in Geneva in June of 2007 when both attended a conference that drew together progressive parties from around the world. "Just seven months later she was assassinated." Arden said: "There will be opinions and differing perspectives written about all of us as political leaders. Two things that history will not contest about Benazir Bhutto. She was the first Muslim female prime minister elected in an Islamic country, when a woman in power was a rare thing. She was also the first to give birth in office." New Zealand's prime minister reminded the audience that "the second and only other leader to have given birth in office almost 30 years later, was me". "My daughter, Neve Te Aroha (Light and Love) Ardern Gayford, was born on the 21st of June 2018, Benazir Bhutto's birthday."
Arden said the path Benazir "carved as a woman feels as relevant today as it was decades ago, and so too is the message she shared here. In this place".
Benazir said "part way through her speech in 1989 the following:
"We must realise that democracy… can be fragile," Arden recalled, adding: "I read those words as I sat in my office in Wellington, New Zealand. A world away from Pakistan. And while the reasons that gave rise for her words then were vastly different, they still ring true." Noting that "democracy can be fragile," Arden said:  "This imperfect but precious way that we organise ourselves, that has been created to give equal voice to the weak and to the strong, that is designed to help drive consensus  it is fragile." In an interview to the US media soon after Benazir's commencement speech, her classmate Peter Galbraith recalled how in the space of twelve months, "beginning in December 1987, she got married, designed and built a house, wrote and published a book, conducted a national election campaign, gave birth to a son, and took her first salaried job as leader of a strategically important country of one hundred million". Benazir, in a 30-minute address delivered during a two-day visit to Harvard University, her alma mater, had stressed that "democracy, particularly emerging democracy, can be fragile. And the best support for democracy comes from other democracies". She also rejected the suggestion that democracy could not work in the Muslim world. "I have often heard the argument that a Muslim country, as such, cannot have a working democracy," she said. "But I stand before you, a Muslim woman, the elected prime minister of 100 million Muslims, and a living refutation of such arguments and notions." In her speech, Benazir also quoted the poet-philosopher Iqbal: 'Life is reduced to a rivulet under dictatorship. But in freedom it becomes a boundless ocean'. "This is true in Pakistan, and on every continent on earth. Let all of us who believe in freedom join together for the preservation of liberty. My message is, democratic nations unite," she declared.