SUMMARIZED NEWS & ARTICLES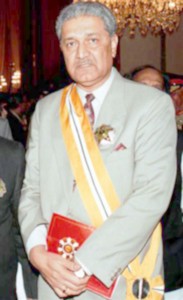 Father of Pakistan's nuclear programme' Abdul Qadeer Khan dies
(10 Oct, 2021) Pakistani atomic scientist died after being transferred to the hospital with lung problems. Abdul Qadeer Khan, revered as the father of Pakistan's nuclear programme, has died at 85.
Dr. Qadeer did a science degree at Karachi University in 1960, then went on to study metallurgical engineering in Berlin before completing advanced studies in the Netherlands and Belgium.
After learning of India's nuclear test in 1974, he had joined the nation's clandestine efforts to develop nuclear power. He had founded the Khan Research Laboratories in 1976 and was its chief scientist and director for many years, according to Radio Pakistan.
Dr Abdul Qadeer Khan became a national hero overnight, not only in Pakistan but in the Islamic world as well, when in May 1998 Pakistan gave a befitting response to India by conducting its nuclear tests.
Following the tests, Pakistan became the sole nuclear power in the Muslim world and the seventh country to possess nuclear weapons. Pakistan's nuclear weapons have kept Indian aggression in check.
Nuclear scientist Dr Abdul Qadeer Khan given state funeral, laid to rest in Islamabad
He was given a state funeral at Faisal Mosque before being laid to rest at the H-8 graveyard – Islambad.
He was awarded the Nishan-i-Imtiaz for his services to the country. (SOURCE: AL JAZEERA AND NEWS AGENCIES)
************************************************************************
PM sets precedent in DG ISI appointment
ISLAMABAD: Prime Minister Imran Khan on Tuesday 26 Otober 2021, finally notified the appointment of Corps Commander Karachi Lt Gen Nadeem Ahmed Anjum as the new director general of Inter-Services Intelligence (ISI), bringing an end to not just the uncertainty surrounding the sensitive matter but also the apparent civil-military deadlock.
It was for the first time that a premier had interviewed potential candidates sent to him by the ministry of defence before the appointment of the new ISI chief.
Since 2000, it was only in 2012 when the announcement of the new DG ISI came from the PM's office and even that too was a terse statement making no mention of either interviews or consultations with the army chief.
On all other occasions, the announcement of the new spymaster was made by the Inter-Services Public Relations (ISPR).
In fact, the last two appointments during the current government also came from the military's media wing.
However, this time the prime minister objected to the past practice and insisted that he would make the final call  triggering an unprecedented standoff between the civil and military leadership, which previously claimed to be on the same page.
A notification issued by the PM's Office on Tuesday read: "The Prime Minister has seen and approved the appointment of Lt Gen Nadeem Ahmed Anjum, HI (M) as Director General Inter-Services Intelligence, with effect from November 20, 2021."
The notification added that the incumbent spymaster, Lt Gen Faiz Hameed "shall continue to hold charge as the Director General Inter-Services Intelligence till November 19, 2021".(Source:  Express Trubuen)
************************************************************************
Pakistan no longer 'up for sale': NSA
(APP)  October 14, 2021
ISLAMABAD: National Security Adviser (NSA) Dr Moeed Yusuf has said that Prime Minister Imran Khan has set a new paradigm whereby the country will no longer be 'up for sale', rather, it would orient its policies around safeguarding and standing up for its interests.
"Pakistan is going to stand for what its interests are, not emotively but very pragmatically," he said in an interview with journalist Dr Moeed Pirzada, for Global Space Village.
"This has invited much criticism, with many deeming it a mistake, but it is true  Pakistan no longer will host bases," he said, with regard to not allowing the airbases to any other country in future.
Dr Yusuf said for the past 20 years, there was an unwinnable war that "some wanted Pakistan to win for them, which was simply an unrealistic goal".
He mentioned that in the past, decisions had been taken without the public on board, which ultimately "backfired".
"This is a paradigm that this prime minister has set with every country and not just the United States," he said, adding that "If there is a condition which Pakistan does not feel to be in its interest, we will not go for it". APP