Summarized News & Articles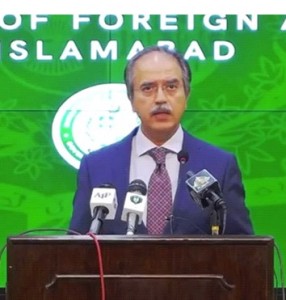 FO rejects 'arbitrary' US assessment of religious freedom
By: Kamran Yousuf |November 18, 2021
ISLMABAD: Pakistan has rejected what it calls "arbitrary and selective assessment" by the United States of its religious freedom credentials, saying the exclusion of India from the list puts the credibility of the report into question.
"Pakistan rejects the US State Department's arbitrary and selective assessment under US domestic legislation on religious freedom," the Foreign Office spokesperson said here at a weekly briefing on Thursday 18 Nov. 2021.
Asim Iftikhar's reaction came a day after the US included Pakistan among the countries of "particular concerns" for alleged religious freedom violations. Other countries include China, Russia and Saudi Arabia.
Pakistan was first included in the list of countries of "particular concerns" over alleged violations of religious freedom in 2018 and since then it has been re-designated every year.
The US State Department includes countries on the list based on the assessment conducted by the independent US Commission on International Religious Freedom (USCIRF). But the recommendations are not binding on the US administration as the commission recommended India to be designated a country with particular concern. The State Department, however, overlooked the USCIRF's recommendation.
The spokesperson explained that the Pakistani society was multi-religious and pluralistic with a rich tradition of interfaith harmony. "Religious freedom and the protection of the rights of minorities are guaranteed by our Constitution and ensured through a range of legislative, policy and administrative measures."
The spokesperson pointed out what he said the "glaring omission of India", where the RSS-BJP regime and their leaders openly disregard religious freedom and discriminate against minority communities in an institutionalised manner.
This, he said, put the credibility of the US report into question.
"State complicity in organised violence against the Muslim minority in India is a matter of record. It is no secret that attacks by cow vigilantes and mob lynching of Indian Muslims take place regularly, with complete impunity for the perpetrators. Systematic demonisation, dispossession, marginalisation and targeted violence against Muslims in Hindutva-inspired India has become commonplace."
"We believe the redressal of the rising trend of intolerance, discrimination, xenophobia and Islamophobia requires global efforts based on the principles of cooperation and mutual understanding. Pakistan is sincerely playing its part in this endeavour and will continue to do so."
************************************************************************
Pak-US hold joint military exercise to counter terrorism
Both countries can help ensure a more peaceful, stable, and prosperous South Asia, says US Charge'd affaires a.i William Steuer.
KARACHI  – United States Chargé d' affaires a.i William Steuer toured the USS Pearl Harbor, a visiting U.S. Navy ship, and observed a joint exercise between the US and Pakistani navies during a visit to Karachi on Friday 12 Nov 2021.
'His visit highlighted the strong military-to-military cooperation between our two countries,' according to a communique .
Notably, this is a return to Karachi for the USS Pearl Harbor.  The ship docked in Karachi in October 2005 after the devastating October 8 earthquake that struck Pakistan to assist with emergency earthquake relief.
Chargé Steuer delivered remarks at a reception on board the USS Pearl Harbor and expressed appreciation for the Pakistan Navy's participation in the Combined Maritime Taskforce (CMF), and for its commitment to protecting sea lanes of communication and freedom of navigation in the North Arabian Sea as part of Combined Task Force 150 (CTF 150) and Combined Task Force 151 (CTF 151).
"The military-to-military ties between the United States and Pakistan are strong and enduring," said Chargé Steuer.  "Through staff exchanges and joint exercises, we are working together to protect the world's most important shipping lanes, combat piracy, and counter terrorism. Together, we can help ensure a more peaceful, stable, and prosperous South Asia."
The USS Pearl Harbor (LSD-52) is a dock landing vessel with the capability to transport US Marines and vehicles.
CTF 150 and CTF 151 are task forces operated by Combined Maritime Forces (CMF) aimed at eliminating piracy and armed robbery at sea, protecting global maritime commerce, and securing freedom of navigation.  CTF 150 operates outside the Arabian Gulf, while CTF 151 operates off the Horn of Africa.  Pakistan has commanded Combined Task Force 151 (CTF 151) more than any other country.
************************************************************************
Pakistan conducts successful flight test of Shaheen-1A missile
By Muhammad Anis
(November 26, 2021) The test flight was aimed at re-validating certain design and technical parameters of the weapon system. Flight test was witnessed by Lieutenant General Nadeem Zaki Manj, Director General Strategic Plans Division, Dr Raza Samar, Chairman NESCOM, Lieutenant General Muhammad Ali, Commander Army Strategic Forces Command and the scientists and engineers of strategic organisations.
Director General Strategic Plans Division congratulated scientists and engineers on successful conduct of flight test. He appreciated the technical prowess, dedication and commitment of scientists and engineers for their excellent contribution.
President Arif Alvi, Prime Minister Imran Khan, Chairman Joint Chiefs of Staff Committee and Services Chiefs congratulated t he scientists and engineers on this achievement. Pakistan started development programme of Shaheen, the surface to surface ballistic missile in 1995 and test fire of Shaheen-1 was conducted on April 15, 1999. Later, the Shaheen-1 was handed over to Pakistan Army in 2003. (Source: The News International)