Summarized News & Articles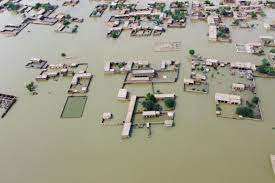 Cataclysmic floods in Pakistan
 killed 1,300+ including 380 children,  Wounded 12,600 Relief Operations Underway More than half of Pakistan affected by floods, millions homeless There has been $10 billion of damage and an estimated 1 million homes wrecked Pakistan is going through its Eights(8)  cycle of monsoon; normally the country has only three to four cycles of monsoon rain and het another cycle may come in September A rapid needs assessment conducted by IRC and
Medical Emergency & Resilience Foundation (MERF) in Pakistan found that:
87% of respondents reported that women and girls don't have safe latrine facilities and 84% don't have access to  necessary hygiene supplies
71% reported their community does not have access to sufficient and clean drinking water
63% reported that pregnant and lactating women were extremely vulnerable
60% of respondents said their community is not safe
30 to 40% of respondents said they do not have access to critical healthcare
Pakistani authorities say this year's devastation is worse than in 2010, when floods killed 1,700 people. Gen. Qamar Javed Bajwa, the country's military chief, said  that his country may take years to recover. He appealed to Pakistanis living abroad to generously donate to the flood victims.
—————————————————————————————————————-
International aid reaches Pakistan
So far, Pakistan has received aid from China, Saudi Arabia, Qatar, Turkey, Uzbekistan, the United Arab Emirates and a number of other countries. The United States announced it would provide $30 million (€29.9 million) in aid for flood victims. The United Nations has warned that Pakistan's floods could put significant pressure on efforts to get food into neighboring Afghanistan. The UK government announces humanitarian support of up to £15 million to help Pakistan's flood response. Islamabad, Pakistan, August 29, 2022 —The country has received nearly 190% more rain than the 30-year average in the quarter through August this year, totalling 390.7 millimetres (15.38 inches). Sindh province, with a population of 50 million, was hardest hit, getting 466% more rain than the 30-year average.  The International Rescue Committee (IRC) is responding to devastating floods in Pakistan which have hit almost 33 million people and killed more than 13000+. Since mid-June, the monsoons have destroyed 3,000 kilometers of road, 130 bridges and 495,000 homes. Sindh and Balochistan provinces have seen 784% and 500% more rains than average with even more Monsoon rains anticipated in the coming weeks. With more than 4 million acres of crops damaged and almost 800,000 livestock killed, the IRC is anticipating a sharp increase in food insecurity and a severe impact on the economy.AP,AFP,DPA,Reuters
——————————————————————–
'IMF approves revival of Pakistans EFF programme, to release $1.17bn loan tranche
(29-Aug. 2022) The International Monetary Fund's (IMF) executive board has approved the revival of Pakistan's Extended Fund Facility (EFF) programme after which the country will receive the 7th and 8th tranche of $1.17 billion, Finance Minister Miftah Ismail said. "Alhamdolillah the IMF Board has approved the revival of our EFF program. We should now be getting the 7th & 8th tranche of $1.17 billion," he tweeted. The minister went on to congratulate the nation and thanked Prime Minister Shehbaz Sharif for "taking tough decisions" and "saving Pakistan from default". Separately, in an interview with Geo News anchorperson Shahzeb Khanzada, Ismail said that all the executive directors had supported Pakistan's request for the loan approval and extension except India. Meanwhile, PM Shehbaz commended the finance minister, his team and other stakeholders for their hard work. "The formal resumption of an IMF program is a major step forward in our efforts to put Pakistan's economy back on track. It is outcome of an excellent team effort," the premier said. The IMF will now immediately disburse about $1.2 billion to Pakistan and may provide up to $4 billion over the remainder of the current fiscal year, which began on July 1.
——————————————————————————————————
CPEC laying foundation for sustained economic modernization: PM
News Desk August 17, 2022
 ISLAMABAD: In an interview with the Global Times, he said over the past 10 years, the construction of CPEC projects has helped Pakistan reduce the bottlenecks caused by past power shortages and weak infrastructure. PM Shehbaz said the government will continue to work closely with China to enhance the momentum of cooperation between the two countries. Regarding Pak-China friendship, he said the all-weather strategic partnership between Pakistan and China is deeply rooted in people's hearts, covering all areas of bilateral cooperation. PM Shehbaz further said that the two countries support each other on the issue of mutual core nterests. Pakistan has always firmly supported the One China Policy and believes that Taiwan is its inalienable part, he added. Moreover, the premier stated that Pakistan-China relations are an important factor for peace and stability in the region and the world. Furthermore, PM Shehbaz said in order to stabilize the economy, we urgently need to lay the foundation for the long-delayed  structural reforms, adding that the government also needs to deepen economic and trade relations with friendly countries. In his concluding remarks, the prime minister said that public policy transformation from geopolitics to geo-economics represents a consensus that we should realise the potential of to accelerate Pakistan's development. He added that the core of our development strategy remains to safeguard the well-being of the Pakistani people and make Pakistan a self-reliant state.
 Strengthening Pak-China economic relations: Chinese Consul General, Li Bijian
ByNews Desk | 13 August 2022
Pakistan and China have a long economic history which is still continued, and both the countries have agreed to strengthen the business and economic relations and industrial cooperation for joint ventures. The agreement was achieved during a meeting in Karachi between the Board of Investment delegation led by Additional Secretary and the Chinese Consul General, Li Bijian. The Consul General, Li Bijian, praised the BOI for meeting with Chinese and Pakistani associations in Karachi and overcoming the gap between the two nations' private sectors. Moreover, he lauded the BOI's initiatives toward attracting high-quality FDI through concrete steps. One example is the BOI's initiative, in collaboration with the All-Pakistan Chinese Enterprise Association and the Chinese Embassy, to establish the Pakistan Business and Investment Forum, which was praised by President Xi Jinping during the Pak-China joint statement. The Consul General stated that this forum would help to resolve the problems of Chinese companies, while also promoting engagement between Pakistani and Chinese enterprises. He appreciated the B2B CPEC investment conferences organized by BOI in Karachi, Lahore, and Peshawar. He also invited the BOI to take these endeavors to China as well for promoting the bilateral investments. The BOI's Additional Secretary informed that the Government of Pakistan has proposed establishing a G2G SEZ in Pakistan in conjunction with China to assist the influx of Chinese industries relocating to Pakistan. He also highlighted that BOI had eased the work visa process and visit visa and persuaded the Chinese investors and companies to apply for the work visa. The Project Director of CPEC-IC said that the BOI has presented a list of 30 Chinese projects open for investment in Pakistan to the local chambers.The CG was pleased, and he offered to push Chinese firms to be even more forthcoming in disclosing collaborative potential. Thus, with the assistance of the BOI, Chinese missions in Pakistan, and the PCBIF, meaningful joint ventures between companies from both sides may be formed.