Summarized News & Articles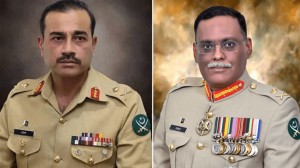 Gen. Sahir Shamshad Mirza appointed chair of joint chiefs of staff committee
Pakistan names former spy master Gen. Asim Munir as new army chief
Outgoing Gen. Qamar Javed Bajwa served since 2016, retires Nov. 29
ISLAMABAD: Pakistan's Prime Minister Shehbaz Sharif on Thursday 24 Nov. picked Lt. Gen. Asim Munir to replace outgoing Gen. Qamar Javed Bajwa as new chief of the country's all-powerful army.
The head of the army is arguably the most influential person in Pakistan — with the military having ruled the country for about half of its 75-year history since independence from Britain — and has extensive powers even under civilian administrations.
Lt. Gen. Sahir Shamshad Mirza has been appointed chairman of the joint chiefs of staff committee.
"The Prime Minister of Pakistan Muhammad Shehbaz Sharif has decided to appoint Lt. Gen. Sahir Shamshad Mirza as the Chairman of the Joint Chiefs of Staff and Lt. Gen. Syed Asim Munir as the Chief of the Army Staff using his constitutional authority," the information minister tweeted.
"A summary of this has been sent to the President of Pakistan."
Illustrious careers
Lt Gen Sahir Shamshad Mirza, was the second on the seniority list. He was Corps Commander Rawalpindi. He also served as chief of general staff (CGS) – a key position most army chiefs held in the past. The CGS is known as the de facto army chief since he heads both the operational and intelligence directorates. In simple words, every file in the army goes through the CGS table. Previously, he served as the Director General Military Operations (DGMO). General Mirza has an interesting personal background. He lost his parents at an early age. He rose to this position with sheer hard work and struggle.
It is stated that he mentioned his unit in the parents' column.
Those who know Gen Mirza closely say he enjoys a good reputation in the army. He is not involved in any controversy and there is not much debate about his candidature.
Gen. Asim Munir, was the most senior general on the list of nominations sent to the prime minister by the military for the army chief's position. Gen. Asim Munir, was promoted to the rank of lieutenant general in September 2018 and was subsequently appointed as the head of Pakistan's all-powerful Inter-Services Intelligence, or ISI, spy agency. Munir is from the 17th course of the Officers Training School in Mangla and was commissioned in the 23rd Battalion of the Frontier Force Regiment. Munir was then transferred and appointed as corps commander of the XXX Corps in Gujranwala, northern Punjab province. He has previously also served as director general of Military Intelligence and commander of the troops deployed in the Northern Areas of Pakistan. As well as controlling security, the army operates a vast business empire in the country and often dictates key areas of Pakistan's foreign policy, including relations with historic foe India and its war-torn western neighbor Afghanistan.
———————————————————————
Pakistan rejects India's reports quoting DG IAEA remarks about BrahMos missile Pakistan
(November 16, 2022) Pakistan termed Indian media reports quoting Director General International Atomic Energy Agency (IAEA) Rafael Mariano Grossi that the firing of BrahMos nuclear-capable missile into Pakistan's territory from India on March 2022 was not a cause for any specific concern for the IAEA as "disingenuous." FO says Indian report is a "disingenuous attempt" by Indian state-sponsored media to absolve their country of its "irresponsible nuclear behaviour" In response to a query, Foreign Office Spokesperson Mumtaz Zahra Baloch said the report is a disingenuous attempt by the Indian state-sponsored media to absolve India of its irresponsible nuclear behaviour by directing this question at the Director General IAEA. She said the available transcripts show that DG IAEA responded in negative when asked whether the IAEA had sought information from the Indian government on the incident. It should have been qualified by stating that IAEA has no mandate on such matters. Mumtaz Zahra Baloch said Director General's response cannot be purposely misinterpreted to trivialize the incident of a nuclear-capable BrahMos missile fire with grave implications for regional and global security. She said the incident has raised several questions about India's conduct as a nuclear state including, whether it was actually an accident. She said India also needs to answer questions about the underlying intentions, technical features and reliability of the missile system, safety, security and nuclear command and control protocols, and the presence of rogue elements in the Indian military. The Spokesperson said India needs to explain several repeated incidents of nuclear and radioactive material theft and illicit trafficking that are more relevant to the IAEA mandate. It was expected to report these nuclear security related incidents under the IAEA Incidents and Trafficking Database. She said these critical questions, which remain unanswered, should continue to be of concern to the international community. (Source: Radio Pakistan)
————————————————————————————————–
Pakistan Says It'll Repay External Debt, Won't Default
By Kamran Haider | November 19, 2022 | Bloomberg
Pakistan's Finance Minister Ishaq Dar said the government will fulfill its external debt commitments including the repayment of a sukuk bond that's due in the first week of December. "There is no chance of default. Repayment will be done on time," he said in a televised message on Saturday, adding that arrangements for debt repayments for next year have been done "in principle." Dar estimated the country's current account deficit would be at $6 billion at the end of June 2023, half that of an earlier projection. He said the deficit is expected to be less than $400 million in October. The finance minister also rejected the possibility of fuel shortages in the country amid political uncertainty triggered by former premier Imran Khan's months-long campaign for snap elections to be held.
————————————————————————————————–
Renowned comedian Ismail Tara passes away in Karachi
Pakistani actor Ismail Tara passed away in Karachi on Thursday 24 Nov., evening, his family has confirmed. He was 73.  According to reports, he has been admitted to a private hospital for the last three days due to some health complications and he was put on a ventilator after his health deteriorated. Kidney failure is being said to be the cause of his death. The funeral prayer for the actor will be offered at Memon Jamia Masjid Phari Wali, Shaheed-e Millat Road after Friday prayers. He is survived by his widow, four sons and a daughter. Born in Karachi on November 16, 1949, Ismail started his career in 1980 where he contributed massively to the local entertainment industry with popular stage plays, television dramas and films. Moreover, he was largely famous for his comedy. The legendary TV star rose to fame with his iconic role in Pakistani drama Fifty Fifiy. He later worked in many stage plays, television dramas and 14 Lollywood films. He is five times Nigar Awards winner for best comedian in Haathi Mere Saathi, Aakhri Mujra, Munda Bigra Jaye, Chief Sahib and Deewarein. His impeccable comic timing, on-screen persona and larger-than-life persona earned him the title of the 'Pakistani Johny Walker'. His role in the film even landed him his first Nigar Award. On the work front, Tara's last series, Woh Pagal Si, aired earlier this year in July 2022.