Summarized News & Articles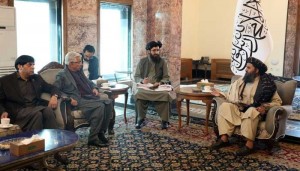 Pakistan, Afghanistan to jointly address terror threats
"Pakistan regularly holds dialogue on counter-terrorism with different countries,". As terror returns to Pakistan, the country has expedited its efforts to ensure peace and stability in the region after a high-level delegation led by Defence Minister Khawaja Asif flew to Kabul for meetings with the Afghan interim government. The two governments have agreed to collaborate towards addressing the threat of terrorism and strengthen multifaceted bilateral cooperation, Foreign Office spokesperson Mumtaz Zahra Baloch said during her weekly briefing on Thursday. During their engagement, the delegation held meetings with the Afghan interim government's senior leadership including Deputy Prime Minister Mullah Abdul Ghani Beradar Akhund, Defence Minister Mawlavi Mohammad Yaqoob Mujahid, Interior Minister Sirajuddin Haqqani and Foreign Minister Amir Khan Muttaqi. The FO spokesperson said discussions around the growing threat of terrorism in the region, particularly by the banned Tehreek-e-Taliban Pakistan (TTP) and Islamic State Khorasan Province. Responding to a question regarding the focus of the defence minister's visit to Afghanistan's capital city, Baloch said the talks revolved around security and counter-terrorism matters and all aspects of the issue were discussed between the two sides. Deeming it a "sensitive matter relating to security and counter-terrorism", the spokesperson refused to share additional details with the media on what was agreed upon and progress on the discussions. Addressing another question on whether the Afghan government will address Pakistan's concerns, she said: "It is speculative in nature because it is a bit early to cast judgement on a visit that just happened Wednesday." She was also asked about the possibility of Pakistan's Head of Mission in Afghanistan Ubaid Ur Rehman Nizamani's  who was also part of the delegation and survived an assassination attack on December 2  returning to Kabul and assuming back his charge in the Islamic Emirate. "The head of mission was part of the delegation that visited Kabul yesterday and all members of the delegation have returned to Pakistan."
Torkham border
The FO spokesperson also clarified the situation unfolding at the Torkham border, which has remained closed for the last few days. While the border was already closed by Afghanistan for unknown reasons, the Afghan border security forces  on February 21  also opened fire and injured a Pakistani soldier at Ayub checkpoint, located at the hilltop near the border. Baloch further said that the border was not closed by Pakistan. "We have been in contact with our neighbour Afghanistan and all matters relating to the border including the one on fencing remain under discussion between the two sides, including at local levels," she added. Commenting on the statement given by State Minister Poverty Alleviation and Social Safety Pakistan Faisal Kareem Kundi regarding Islamabad's Afghan policy, the spokesperson said she won't comment on "statements by political leaders".
Pak-US dialogue
The spokesperson, while responding to a question on the potential Pakistan-United States dialogue to discuss combating terrorism in March which Foreign Minister Bilawal Bhutto-Zardari spoke about during his visit to the US as well as if the TTP would be discussed in it, said that she is not in a position to share details about the meeting at this stage. She added that Islamabad and Washington have held a wide-ranging dialogue on various aspects of bilateral relations including trade, energy and security issues and counter-terrorism. "Pakistan regularly holds dialogue on counter-terrorism with different countries as part of our over-arching discussions on peace and security matters. We will share information about this meeting at the right time," she also said.
President urges Pakistani students to learn artificial intelligence
President Dr. Arif Alvi has urged Pakistani students to learn and apply Artificial Intelligence (AI) in order to compete in the modern IT industrial era. He said that there was ample space in the field of IT that can be filled up by Pakistani youth to contribute to the economic prosperity of the country. The President expressed these views while addressing the conference" titled Traditional & Non Traditional Security Imperatives for Pakistan, at the University of Karachi. The Vice Chancellor of Karachi University Dr. Khalid Iraqi, the executive Director CISSS Ambassador Qazi Khaliullah and the Chairperson International Relations Department Karachi University Dr. Shaista Tabasum, the teachers and students were also present in large numbers on the occasion. President Dr Arif Alvi stated that to establish a healthy and balanced society, people should have basic education and health facilities. He underscored the need to prioritise our decisions while making decisions in daily life or policy making, we must keep social and societal needs, problems, and attitudes in mind. The President said that there were 9 million births in Pakistan each year, 50% of which are unintentional. Through proper planning, information, and provision of facilities, not only can the growing population be controlled, but it is also possible to solve the health problems of women they suffer during pregnancy. He stated that the natural resources alone are not sufficient for a country's prosperity, but natural resources along with intellectual resources are important to utilize them efficiently. Nature has blessed us as a nation with enormous abilities, but that due to a lack of proper utilisation of these resources and abilities, we have fallen behind our neighbouring countries in the race for development in every field of life, he further added. He applauded the efforts of Pakistani government and the public the way they fought COVID-19 smartly. He stated that the democracy is the best way to strengthen the country, and in this regard, he appealed to the participants to take their active part in Pakistani Politics to bring change with their votes.
My conscience is dying a slow death
Javed Jabbar
Sometimes, in the darkest hour of the night, I call on my conscience to see if it is still breathing. It's dying a slow and gradual death every single day. When I pay for a meal in a fancy restaurant an amount which is perhaps the monthly income of the guard who holds the door open, I quickly shrug away that thought. My conscience dies a little. When I buy vegetables from the vendor and his son "Chhotu" (a small child who should be studying at school) smilingly weighs the potatoes, I look the other way. My conscience dies a little. When I'm all decked up in a designer suit (a suit that costs a bomb) and I see a woman at the crossing in torn clothes, trying unsuccessfully to save her dignity, I immediately roll up my window. My conscience dies a little. When I buy expensive gifts for my children and return home, I see half-clad naked children with empty stomachs and hungry eyes selling toys at the red traffic signal, I try to save my conscience by buying some. Yet, my conscience dies a little more. When my sick maid who can't come to work sends her daughter to work by making her miss school, I know I should tell the little girl to go to school, but then I look at the loaded sink full of dirty dishes and I tell myself that is just for a couple of days. My conscience dies a little more. When my city is choked and breathing is dangerous in the smog ridden metropolis, I take my car to work daily, not taking public transport or carpooling. One less car won't make a difference, I tell myself. My conscience dies a little more. So when in the darkest hour of the night I visit my conscience and find that it is still breathing I am surprised because bit by bit, day by day, I try to kill it and bury it with my very own hands.