The beginning of the end for the Saudi-Led coalition in Yemen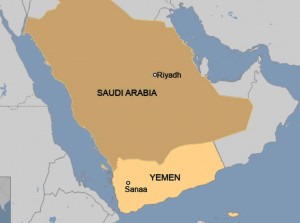 UAE, Saudi, and affiliated local forces have begun withdrawing from locations across southern and western Yemen; while couched as "redeployments," together the moves suggest the Saudi-led coalition is actively looking for an exit strategy
By Gregory D. Johnsen
November was a busy month for the anti-Houthi coalition in Yemen. Much of the international attention was, understandably, focused on the fighting in Marib and the ongoing Houthi offensive to take control of the governorate and its all-important oil and gas fields. But it is what happened away from the frontlines in Marib that will likely shape the immediate future of the war.
Over the course of four weeks in late October and November, United Arab Emirates, Saudi, and affiliated local forces began withdrawing from locations across southern and western Yemen. Many of the moves were couched as "redeployments" and, perhaps, if viewed in isolation they could be seen that way. But when taken together, the moves suggest that the Saudi-led coalition is now actively looking for an exit strategy in Yemen.
On October 26, UAE forces stationed at the al-Alam military base in central Shabwa handed over the base to allied Shabwani Elite Forces and departed for Saudi Arabia. A few days later, in eastern Yemen, reports began to trickle out that Saudi soldiers were withdrawing from outlying positions in Mahra and regrouping at their main base in Al Ghaydah.
Saudi Arabia's expanded military footprint in Mahra, on the Omani border, has long been an issue of contention with its Gulf neighbor. Oman, which is home to a sizeable Mahri-speaking population of its own, views Mahra as part of its sphere of influence and resented Saudi Arabia's growing presence on its border. Indeed, in recent years, Saudi Arabia and Oman embarked on a covert war for influence in the governorate, with each backing different local factions as Saudi Arabia built up a constellation of military outposts in Mahra.
Saudi Arabia's pullback in early November, as one analyst pointed out, yielded immediate dividends in its relationship with Oman. Shortly after Saudi troops withdrew to Al Ghaydah, Oman's minister of economy, Said bin Mohammed al-Saqri, floated the idea of an oil pipeline connecting Saudi oil fields to an export terminal in Oman. Such a move, which was first proposed in the 1970s, would allow Saudi Arabia to bypass the chokepoint at the Strait of Hormuz.
Around the same time Saudi Arabia was pulling back in Mahra, it also withdrew a contingent of soldiers that had been stationed at the airport in Ataq, the capital of Shabwa governorate. On November 10, Saudi Arabia withdrew more soldiers and equipment from its base in the Burayqah district of Aden. At the time a Saudi spokesman pushed back on reports that Saudi Arabia was fully withdrawing from Aden, calling them "baseless and unfounded." Instead, he said, Saudi Arabia was simply redeploying its troops in line with its military strategy.
But perhaps the most intriguing move came a day later when the UAE-backed Joint Forces, which are headed by Tariq Saleh, withdrew from several key positions around Hodeidah and along the Red Sea coast, which allowed Houthi forces to take over the evacuated areas. Like Saudi Arabia, the UAE had an explanation ready for the withdrawal. In this case, the UAE characterized the move as a redeployment of forces in keeping with the Stockholm Agreement. But the Stockholm Agreement is nearly three years old, and neither the United Nations Mission to support the Hudaydah Agreement nor the Yemeni government was informed of the move beforehand. Nor did there appear to be any pressing military or strategic reason for the Joint Forces to withdraw from those positions in mid-November.
But there was a political reason. Indeed, what makes all these military moves on the ground in Yemen so intriguing is their timing. For instance, Saudi Arabia's drawdown in Shabwa, Mahra, and Aden came in the wake of an October 3 announcement from Saudi Foreign Minister Faisal bin Farhan that the kingdom had held its first round of direct talks with Iran's new government. The talks, which were held September 21, were part of a process that began in April and is still ongoing.
Similarly, following the UAE's ordered withdrawal from areas south of Hodeidah, the UAE and Iran announced that the two countries were "opening a new chapter" in their relationship during a visit to Dubai by Iran's deputy foreign minister. Anwar Gargash, a diplomatic advisor to the UAE's president, had previously stated that: "The UAE is taking steps to de-escalate tension with Iran as part of a political option that supports diplomacy and avoids confrontation."
The military drawdowns and withdrawals in Yemen are less about a quid pro quo than they are about confidence building measures. These are very likely the opening moves by Saudi Arabia and the UAE as they prepare to fully exit Yemen. Both countries have wanted to leave Yemen for some time, but both also need reassurances before they do. Neither the United States nor the U.N. has been able to broker anything resembling a comprehensive peace in Yemen, nor are they likely to in the near future, so both Saudi Arabia and the UAE are taking the first tentative steps toward a deal of their own.
For Saudi Arabia, this also means repairing strained relationships within the Gulf Cooperation Council with countries like Oman and Qatar. If the kingdom is going to engage directly with Iran, it wants to make sure its flank is protected, which explains the Saudi olive branch to Oman in Mahra as well as the recent overture by Saudi Crown Prince Mohammed bin Salman to the emir of Qatar.
In their own ways, Saudi Arabia and the UAE are hoping that Iran can be both a credible partner in Yemen and keep the Houthis in check, ensuring that the insurgent group abides by whatever deal is eventually made. A full Saudi and UAE military withdrawal is still a long way off, but both have shown in the last month that they are preparing to leave Yemen.
Gregory D. Johnsen is a former member of the United Nations' Panel of Experts on Yemen and the author of "The Last Refuge: Yemen, al-Qaeda, and America's War in Arabia."