The Rise and fall of Qingqi Rickshaws and the Stumbling Transport System of Karachi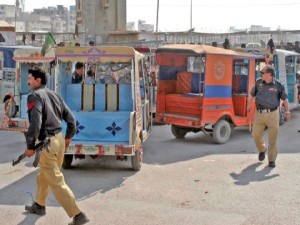 By Fatima Ahmed
On August 5, 2015 the government banned the 50,000 so called Qingqi's due to their illegal nature but this mode of transportation presented a ray of hope to the millions of karachi'ites who don't own private transport. Should it have been banned? Certainly. The court order was ruled on the basis of absence of route permits and documentations as well as underage drivers maneuvering them.But does it leave a void in Karachi's transport system? Absolutely! There is no doubt that the bike supported frame was dangerous due to the imbalance of weight it created, at times leaving the bike hanging in midair when at standstill and potentially injuring the driver or passenger. However, it nevertheless waived away the commuting woes of millions of people. For very cheap rates that anyone can afford, the Qinqchi provided a way to commute that posed less stress and greater convenience when compared to the busses which are overcrowded and over flooded with people, at times leaning on to one side due to overweight.
The transport network of Qingqis had become widespread when the government decided it needs to be shutdown. The point is, like many other things which are illegal and plagued by mafias and still prevalent because the government chooses to stay blind to them, something which was contributing to the convenience of the public even marginally has been shut down. Crackdown against Qinqgi's shouldn't have come without a public transport alternative or a plan to legalize them or make them safer. Not only did the ban put out many people out of work, it also took away a form of public transport that was convenient to use. Karachi does not have a proper public transport system in the first place, one which is widely needed because the population is dependent on it. From the lower class to the middle and upper middle class, no one can deny using public transport from time to time in a city like Karachi. Many people use it on a daily bases to reach their workplace.
The last census count in 2011 reveals Karachi's population to be 22 million, a hundred percent increase since 1998. Karachi is the only port city of Pakistan and the largest industrial hub. It is not only home to the people of Karachi but to people of other ethnicities which come here to make a living. It is home to 30 percent of Sindh's population and in spite of its significance as an economic and financial center faces a serious and problematic transport situation. 60 percent of Karachi's residents use the public transport system for their daily commute to work which consists ofbuses and rickshaws. Buses are plagued with their own set of problems and a declining number of private buses, from 22,313 in 2011 to 12, 399 in 2014 is a grave matter of concern. What's worse that of these, only 9,527 buses remain operative.
Any initiative that the government launches for this stumbling transport system, hardly sees the light of day on a large scale. The concerns of millions of people to commute within the city for work or leisure perhaps isn't a pressing matter because like all other problems that the average Karachi citizen faces, it wouldn't matter that they face another.
All figures have been taken from the report "Karachi: The Transport Crisis" compiled by Mr. Arif Hasan