Ukraine invasion turning into protracted war that Russia will win, experts warn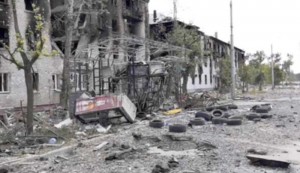 By Kate Buck
The war in Ukraine risks turning into a protracted conflict that Russia will eventually win, a leading think-tank has said. The report by the Royal United Services Institute (RUSI) warned that current Russian advantages and Ukrainian weaknesses are leading to a style of conflict that favours Moscow. The invasion is developing into a war of attrition, the authors said, where each side attempts to break down the other through continuous and ongoing losses of, personnel, troops and equipment. After failing to take the capital of Kyiv, Russia's forces have concentrated their attack on the south eastern Donbas region, and have managed to gain control of a number of cities in Luhansk and Donetsk. The city of Lysychansk was claimed by Russian forces on Sunday, bringing an end to one of the biggest battles in Europe for generations, which saw Moscow bring the full might of its ground forces to a small area of the frontline. During a brief televised meeting with his defence minister, Putin congratulated Russian forces on their "victories in the Luhansk direction". The capture of the city means that Russia has essentially gained control of the entire Luhansk region, marking Russia's biggest victory since it captured the southern port of Mariupol in late May. Ukraine's military intelligence chief Kyrlo Budnov said his defence forces had withdrawn "to advantageous positions in order to gain tactical superiority" after the Russians razed the city to the ground. Nina Bondar, who was evacuated from Lysychansk, said: "The city doesn't exist anymore. It has practically been wiped off the face of the Earth. There is no humanitarian aid distribution centre, it has been hit." The RUSI report said while Ukraine does have "the will to achieve the operational defeat of the Russian military", there are a number of factors which mean a longer war could eventually lead to Russian victory.
These include:
Russian attacks preventing Ukraine the chance to destroy their artillery
Russian forces attacking Ukrainian defence forces and preventing them from launching offensive attacks
Repeated cruise missile attacks on Ukrainian cities bringing a high economic and political cost
Ukraine currently does not have enough trained soldiers and armoured operators limiting their ability to conduct offensive operations
The report added Ukraine's allies have an essential role in achieving victory for Ukraine.
"Ukrainian victory is possible, but only with international support," the report states.
"In the absence of that support Ukraine may either be worn down through attrition and economically strangled, or else fight a protracted and bloody war over several years."
Many countries have been offering military aid to the embattled nation, something RUSI said was "hugely consequential in enabling Ukraine to survive".
However, the authors warned against Ukraine's allies continuing with the "piecemeal delivery" of "different fleets of equipment, each with separate training, maintenance and logistical needs". According to RUSI, assistance which Ukraine needs urgently includes:
Anti-radiation seekers for loitering munitions to suppress or destroy Russian weapons
Multiple launch rocket system to destroy Russian logistics and ammunition stockpiles
Secure communications systems
Anti-tank guided weapons and man-portable air-defence systems
Protected mobility to enable Ukrainian troops to manoeuvre under fire
Ukrainian president Volodymyr Zelenskyy has vowed to carry on with the resistance following the loss of Lysychansk. In an address he said: "We will rebuild the walls, we will win back the land, and people must be protected above all else.  "And if the commanders of our army recall people from certain points of the front, where the enemy has the greatest fire advantage, in particular, this also applies to Lysychansk, it means only one thing: that we will return thanks to our tactics, thanks to the increase in the supply of modern weapons."