Xi Jinping says China is 'invincible', regardless of challenges ahead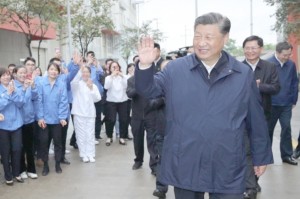 By William Zheng
Chinese President Xi Jinping told Communist Party officials at the start of the year the world was in "turmoil" and would be for some time, but regardless of the challenges it faced, Beijing was "invincible". His comments came in a speech made during a study session at the Central Party School on January 11  just five days after a mob stormed the US Capitol in Washington  and was published in full by party journal Qiushi on Friday.
"At present, the world is experiencing profound and unprecedented changes," he said. "The most conspicuous feature of the world today can be summarised in one word 'turmoil'  and it looks like this situation will continue for some time." Do you have questions about the biggest topics and trends from around the world? Get the answers with SCMP Knowledge, our new platform of curated content with explainers, FAQs, analyses and info graphics brought to you by our award-winning team.
Large parts of the speech, which ran to more than 12,000 words, concerned China's recovery from the Covid-19 pandemic. "Judging from how this pandemic is being handled by different leader ships and [political] systems around the world, [we can] clearly see who has done better," he said, without mentioning any countries by name. "Time and history are on our side and this is where our conviction and resilience lie, and why we are so determined and confident."
Nonetheless, China still faced many challenges and uncertainties, he told the cadres. "We must be conscious that our country's development is still at the important strategic opportunity stage, and our opportunities and challenges will face new developments and changes," he said. "Both our opportunities and challenges are enormous and unprecedented, and generally speaking our opportunities are bigger than challenges.
"As globalisation faces counter currents … we must understand how to handle the relationship between self-reliance and opening up [to the outside world]," Xi said. "We must do a good job as we participate in the international division of labour and safeguard national security, make good use of foreign capital and carry out proper security checks at the same time so we can open our doors wider under the condition of ensuring our national security," he said.
We must understand how to handle the relationship between self-reliance and opening up. Xi Jinping China should learn from other countries' experience in setting up "glass doors and adding different locks at different stages" to deal with national security issues effectively, he said. Xi devoted a large part of his speech to the need for self-reliance and said China could weather any storm or challenge as long as the economy remained strong.
"As long as we can stand on our own and be self-reliant, and maintain a vibrant flow of goods and services domestically, then we will be invincible no matter how the storm changes internationally. We will survive and continue to develop, and nobody can beat us or choke us to death," he said. "A new development framework will help enhance our survivability, competitiveness, development strength, and sustainability in all foreseeable and unforeseeable storms and tempests, so we can ensure that the great rejuvenation of the Chinese nation will not suffer delay or interruption," he said.
Xi was critical of Communist Party officials who twisted his policies, acted selfishly or invested in wasteful projects. "We must guard against] silo mentality and bear in mind the importance of building a unified market which serves the whole country," he said. "Cadres must not only worry about your little domain or market, and only work hard to keep your little economy flourishing." As the world's largest market, China should "play to this advantage, continuously consolidate and strengthen this advantage, and form strong support in the building of a new framework for our country's development", he said.
Ahead of the celebrations for the Communist Party centenary, Xi and other senior officials have promoted a new narrative in recent months that highlights the rise of the East and decline of the West. Analysts said that although Xi's view in January was that China had managed the health crisis better than Western countries, circumstances had changed in the months since then.