China preparing for 'water war' with India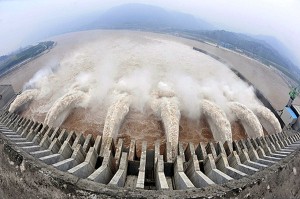 By Hemant Waje
China has stepped up preparations for a future water war with India by accelerating the construction of a huge dam on the Mabja Zangbo River, just a few kilometres north of the trijunction border with India and Nepal, Kathmandu-based online magazine Epardafas.
According to Epardafas, with this project, China can increase tensions in the future and can establish complete control over the water in the area. Open-source intelligence has revealed that on the basis of its latest satellite images, the Chinese dam is located very close to the Kalapani region of Uttarakhand. Not only this, China is also building an airport near this dam, which can prove to be very effective for the Chinese Air Force. It can be seen from the pictures that the construction work of this Chinese dam has not been completed yet, but continuous work is going on, Epardafas reported. The news about China building a dam near Nepal comes at a time when China has started finalising a huge dam near Arunachal Pradesh. According to Epardafas, China is building this dam on the Yarlung Tsagpo River, a tributary of the Brahmaputra.
This Chinese dam is being built on the Medog border which is very close to Arunachal. According to sources, China can change the water flow of the Brahmaputra River through this dam.  The Brahmaputra River is not only the lifeline of the Northeast but also of Bangladesh. This will either lead to water shortage in Arunachal and Assam or so much water will come that many areas will be submerged in flood. A recent media report said that China is trying to create a "hydro-hegemony" to dominate the water economy and ecology in south and south-east Asia by pursuing a series of mega-dam projects over rivers in Tibet. Since Tibet's occupation, China has disrupted the natural flow of rivers by pursuing a series of ill-conceived environmental and developmental policies such as the Great Leap Forward, the South-North Water Diversion Project, etc, the report said, adding that, this has led to a dam-building spree on the Tibetan plateau with disastrous impacts on Asia's major rivers.