A terrible beauty is born in the geopolitics of Kashmir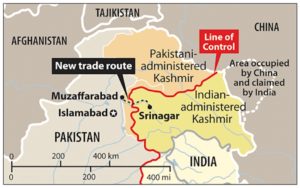 The tallest Kashmiri politician today, Farooq Abdullah, former chief minister of the Indian state of Jammu & Kashmir and an erstwhile cabinet minister in the central government in New Delhi, would have been a consummate surfer in the world of sports. The audacity with which he rode the wave of Kashmiri nationalism through turbulent decades (while also remaining "Delhi's man in Srinagar") has been breathtaking. Abdullah, who is currently a parliamentarian, may have deliberately opted to surf unforgiving political waves when he said in Delhi on Friday that India needs to accept help from the United States or China to settle the Kashmir issue.Abdullah asked indignantly: "How long will you wait for talks [between India and Pakistan]? Will you wait for a thousand years? "You have to take the bull by the horns. Sometimes you have to do it. You have [the] atom bomb and they too have [the] atom bomb. How many people will get killed?
"The only way is dialogue. Take a friend's help. We say we have friends across the world. So take their help for talks and tell them we want to solve it[Kashmir. "Four wars have been fought. How [many] more losses do you want? The money we spend on planes and war machinery, if [we] used it for poor farmers, then the country [would] develop rapidly…. You need to find a solution. You won't find anything by being rigid."As a seasoned surfer, Abdullah knows the size of the swell that he has to work with. He understands that Kashmiris feel utterly exhausted from being on the barricades for decades but nonetheless remain defiant in their belief that they have nothing more to lose.Coercion never works against people who are desperate, having experienced the frontiers of pain and loss, but the state apparatuses somehow refuse to learn from history. Hence the stalemate in J&K. But then, the stalemate is unreal too, since the ground is definitely shifting. As a veteran politician, Abdullah can sense the stirring.Kashmir is transforming as a regional security issue as never before seen in the 67 years since British rule ended. It is increasingly becoming untenable to say that Kashmir is India's internal problem  or that it is a mere India-Pakistan dispute. That the unresolved Kashmir issue poses an impediment to settlement of the Afghan issue has been evident for some time, but there is an added urgency felt lately.
The administration of US President Donald Trump admits that a "regional approach" is needed to resolve the Afghan conflict. Indians hope this means the US will step up pressure on Pakistan to terminate its support for the Taliban and the Haqqani network. But they overlook the fact that to secure Pakistan's cooperation, it also becomes necessary to explore the depths of its concerns and legitimate interests as well. And Pakistan says Kashmir is the root cause of regional tensions.No doubt the upheaval and violence in J&K are attracting world attention. However, what may transform the Kashmir problem significantly will be China's decision to wade into it. Thus a terrible beauty has been born in the recent period. The China-India relationship has gotten into a confrontational mode, and there is open talk of an outbreak of hostilities. But Indian strategists fail to see that a new confrontation with China may not necessarily be a replay of the 1962 war. It could be far worse.
In an editorial on Friday, the Chinese Communist Party mouthpiece Global Times wrote on the month-long military standoff between China and India in the China-Bhutan border region: "If New Delhi remains stubborn, India should get prepared for all possibilities from a potentially grave escalation of tension…."The PLA's mobility and logistics capability cannot be matched by that of its Indian counterpart…. [People's Liberation Army] troops may appear in any area beyond the Line of Actual Control that was previously controlled by India…. China does hold a lot of cards and can hit India's Achilles' heel."
The "Achilles heel" unmistakably refers to J&K. An earlier Chinese commentary called the Ladakh region of Kashmir, currently controlled by India, disputed territory claimed by China, Pakistan and India. Such statements are unprecedented.Suffice to say, if the possibility cannot be ruled out that a settlement in Afghanistan might highlight the imperative need for mediation to resolve the Kashmir issue as well, that possibility becomes a near certainty if China gets entangled in it.
Not surprisingly, India has always resisted third-party intervention in Kashmir, while Islamabad has consistently sought outside mediation. But India's stance looks obdurate when New Delhi also remains unwilling to engage with Pakistan in dialogue  and, most crucially, has alienated China. India's intervention in the Bhutan-China territorial dispute creates a new precedent in regional security.Some Chinese commentators have already speculated about a third country intervening in India-Pakistan disputes. Meanwhile, there are other disturbing signals. Some time back, the US ambassador to the United Nations, Nikki Haley, disclosed that Trump hopes to mediate in India-Pakistan tensions and that the topic figured in National Security Council discussions in the White House.These are early days, but Abdullah's remark underscores the paradigm shift taking place in the geopolitics of the Kashmir problem. The "muscular diplomacy" toward China and Pakistan pursued by the present government in India, mentored by Hindu nationalist groups, has opened a Pandora's box.